News
July 19, 2016
The Southwestern College Summer Theatre Festival will present Tony-nominated and OBIE-award-winning musical comedy "[title of show]" at 7:30 p.m. on Friday and Saturday, July 22 and 23, and at 2 p.m. Sunday, July 24, in Messenger Recital Hall located in the Darbeth Fine Arts Center.  The show will be performed as an optional dinner theatre in partnership with The Eatery, and ticket options for show-only or shows with dinner are available.  The show is rated PG-13 due to adult content.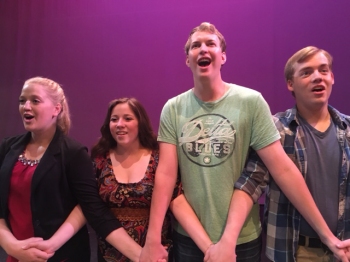 Director Carman Moon says this is an ideal show for couples or groups of friends looking for an entertaining night out.
"So much of the show is about a group of friends, hanging out and doing what friends do," Moon says.  "The character's camaraderie with one another is essential to making their dreams come true."
"[title of show]," created by Jeff Bowen and Hunter Bell, will be directed by Moon, with musical direction by Brian Winnie. The cast of four includes Mathew Porter, Austin Davis, Allie Petrovich, and Julianna Smarsh.
"The show is hopeful; it will make you believe," Davis says.  "The show is an autobiography about creation, and reminds us that sometimes you need help, and how much a group of friends can help."
"[title of show]" chronicles its own creation as an entry in the New York Musical Theatre Festival, and follows the struggles of the author and the composer/lyricist and their two actress friends during the initial brief creative period, along with subsequent events leading up to the show's off- and on-Broadway production. Bowen and Bell, determined to write an original musical rather than adapt an existing play or movie, discovered almost immediately that their conversations about what to write were more interesting than what they were actually writing. One character in the show explains that they are trying to write a musical about two guys writing a musical about two guys writing a musical.
Dinner guests will choose from a variety of meals.  Dinner will be served at The Eatery, 815 Millington St. in Winfield.  Menu items include:
•    Marinated grilled chicken breast served with rice pilaf and sautéed mixed vegetables
•    Broasted (fried) chicken served with mashed potatoes and corn
•    Eight-ounce K.C. strip steak served with baked potato and sautéed mixed vegetables
•    Catfish (cornmeal, blackened, or lemon pepper) served with homecut French fries and coleslaw
•    Vegetarian options 
All of these meals include a house salad and choice of water, tea, or coffee.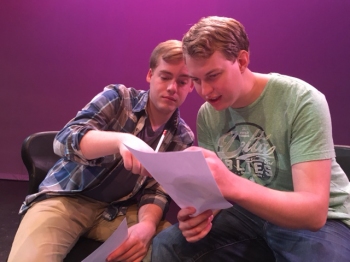 Dinner times for the shows on July 22 and 23 will be at 6 p.m., with the show at 7:30 p.m.  Dinner on July 24 will be at 12:30 p.m., with the show at 2 p.m. Tickets for dinner and show are $25 for adults and $20 for youth.  Show-only tickets are $10 for adults and $5 for youth.
For tickets, call (620) 221-7720 or email boxoffice@sckans.edu.  For more information contact Allyson Moon at (620) 229-6328.