News
September 29, 2016
"Love Letters," A. R. Gurney's play about lifelong love and friendship, will return to the Southwestern College stage for one night during the SC Homecoming weekend.  The production will be presented Saturday, Oct. 8, at 8 p.m., in the Richardson Performing Arts Center located in the Christy Administration Building. 
Gurney's 1989 Pulitzer Prize-winning play, in which two readers share the correspondence of 'Andy' and 'Melissa,' was performed in a memorable homecoming production in 1994 by then-SC President Carl Martin and first lady Mary Lou Martin.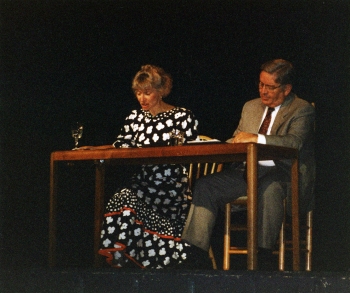 For the upcoming production SC theatre professor Roger Moon, who also directed the '94 production, has gathered a cast of 30 actors ranging from current SC freshmen theatre majors to Campus Player alumni who graduated 60 years ago.  The 15 couples will play 'Andy' and 'Melissa,' two friends in the play who corresponded by letters for 50 years of their lives.
SC freshmen will begin reading the letters of 'Andy and 'Melissa' written when they were six years old, followed by current senior Campus Player theatre majors, then recent Campus Player alumni of the class of 2006 and '01, and '96, will read the love letters old 'Andy' and 'Melissa' as they continue through their early years and on into their lives.  Alumni from classes ending in '01 and '06 or adjacent years will continue, in tag-team fashion, to read the letters of 'Andy' and 'Melissa,' ending with the last letters read by SC Campus Player alumni of the class of 1956. 
Tickets for "Love Letters" are $12 for adults and $6 for students.  Tickets are general admission, but may be reserved at boxoffice@sckans.edu, or by calling (620) 221-7720 or the SC performing arts office at (620) 229-6272.  Tickets will also be sold at the box office in the Christy Administration Building immediately before the performance. Proceeds from the performance will support the SC theatre department TOMARI Technical Theatre Arts Center, and be used toward addition of a new shop for set construction.