News
November 01, 2016
Southwestern College will present "Rosencrantz and Guildenstern Are Dead" and "The Fifteen-Minute Hamlet" on Friday, Nov. 11, and Saturday, Nov. 12, at 7:30 p.m., and on Sunday, Nov. 13, at 2:30 p.m., in the Richardson Performing Art Center, in the Christy Administration Building.
Directed and produced by Roger Moon, "Rosencrantz and Guildenstern Are Dead" is an absurd comic take on the classic "Hamlet," while "15-Minute Hamlet" is a condensed version of the play. Both pieces were written by Tom Stoppard, who also wrote the film "Shakespeare in Love."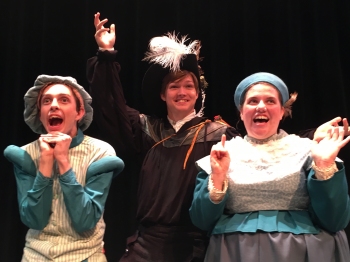 The SC production will feature Southwestern College students Stephen Gehly as Rosencrantz;  Meagan Morrow as Guildenstern; Hamlet will be played by William Wade, and The Player by Jack Warring.   
Cast members will double for "Rosencrantz and Guildenstern Are Dead" and "The Fifteen Minute Hamlet," playing the same roles in both productions.  
"This is a wonderful opportunity for Southwestern College's actors to build their skills with Shakespearean text, and comedy in two styles," says Moon. "It will also be an incredible opportunity for audiences to enjoy these two great comedies."
Members of the court of Elsinore are played by Matt Porter as Claudius, Allie Petrovich as Gertrude, Donnie Dutton as Polonius, Julianna Smarsh as Ophelia, Tanner Schartz as Horatio, Jacob Marney as Fortinbras, Peter Wei Pan and Yue Sylvia Xu as court guards, and Kale Baker as the English Ambassador.
The traveling tragedians performing in the court at Elsinore are played by Willow Branch, Carlene Dick, Shawn Knepper, John Lane, and Tanner Schartz.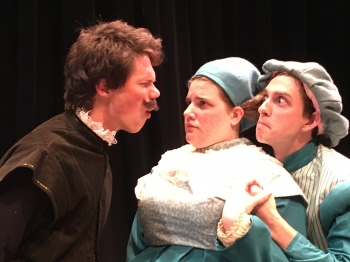 The production has a large technical staff including stage manager Carson Davis; assistant stage managers Kara McClain, Brandi Young, Tessa Castor, and Emily Jones; set designer Roger Moon; costume designer Allyson Moon; lighting designers Meagan Morrow, William Wade and Matt Porter; master electrician Scott Olney; makeup designers Kaela Massey and Ondreya Seahorn; props masters Carlene Dick and Juliana Smarsh; technical director Britany Morgan; shop foreman Jonathan Lane; sound designer Brandi Young and sound operator Toni Ervin; publicity manager Kale Baker; house manager Lena Williams; and box office manager Alex Wilken. 
Ticket prices are $12 for adults, $6 for youth and area students with school ID, $10 for senior citizens, and free for all Southwestern faculty, staff, and students. Tickets can be reserved by calling (620) 221-7720, or emailing boxoffice@sckans.edu.