News
September 29, 2017
The Southwestern College theatre department will present their family-friendly fall production, "Peter and the Starcatcher," on Friday and Saturday, Oct. 6 and 7, at 7:30 p.m., and on Sunday, Oct. 8, at 2 p.m., in the Richardson Performing Arts Center.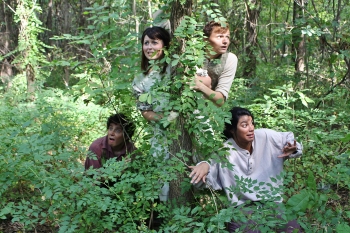 "Even though the 'Peter Pan' characters are still evolving during 'Peter and the Starcatcher' you can tell who they are going to become," says director of theatre Allyson Moon.  "The show is written in a way that is highly entertaining and is absolutely for the entire family.  We even learn about the secrets of the magic fairy dust."
Peter Pan, his fellow characters, and the setting of Neverland have appeared in many works since the original books and play by J.M. Barrie. The earliest were the stage productions of the play and an adaptation to silent film, done with Barrie's involvement and personal approval.  Later works included adaptations of the main story in both animated and live-action films, musical stage productions, and a sequel novel.  In addition, there have been numerous uses of Barrie's characters, settings, and storylines  including reinterpretations, sequels, prequels, and spin-offs in a variety of media, including film, television series, video games, and books.  
Moon explains why she thinks Barrie's work has been so popular through the years.
"I think it is because the Lost Boys get to live lives that all of us have dreamed of," Moon says,  "imagining we won't grow up, being able to fly, being able to have things the way we want them and not how the grown-ups want them to be.  With regards to Hook, the thing that continues to make him endearing is that he doesn't seem to be entirely bad.  He wants to be the ultimate villain but he has just enough flaws in his makeup that make him funny.  So even though he does some really villainous things, one can still have compassion for him.  And Tinkerbell—to have a guardian angel, someone who is always looking out for Peter Pan, I think that is something that we imagine about angels or fairies or sprites. Tinkerbell encompasses so many good and helpful parts of those spirits."
Admission is $12 for adults, $10 for seniors, and $6 for students.  For more information or tickets, call (620) 221-7720 or email boxoffice@sckans.edu.