News
January 31, 2019
Several Southwestern College students and faculty were recognized for excellence at the Region V Kennedy Center American College Theatre Festival (KCACTF) in Sioux Fall, S.D., Jan. 20-26.  Region V comprises Kansas, Nebraska, South Dakota, North Dakota, Iowa, Minnesota, and Missouri.
"Curious Incident of the Dog in the Night-Time" was one of the nine scenes invited to perform at the festival in addition to excellent feedback, the cast received a Meritorious Commendation for ensemble performance, and Scott Olney won Meritorious Commendation for original composition for the performance.
"Over the Garden Wall" was recognized with individuals receiving Meritorious Commendations: Jessica Burk for costume design; Jack Warring for lighting design; Allyson Moon for direction; Ryan Pangracs and Aidan Wells Filbert for the creation of an original work
"It is a clear indication of the investment that SC students make in their liberal arts grounded, performing arts education," says Allyson Moon, director of the theatre program at Southwestern.  "It provides them with a variety of ways to express themselves – performance, design, creative writing, management - and they have taken full advantage of those opportunities, developing their abilities to be the very best that they can be.  That quality of work was rewarded all week long at the festival.
M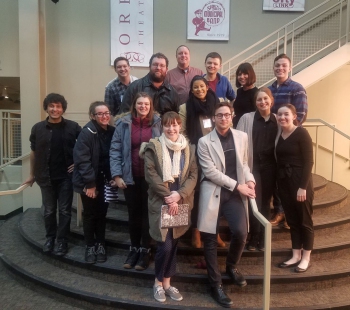 oon and Jennifer Hemphill, assistant professor of theatre, served as respondents for the Irene Ryan Acting Competition.
Tim Shook, chair for the division of performing arts, is proud of what was accomplished at the festival.
"The SC musical theatre, theatre, and music students presented themselves to the KCACTF Region 5 festival with a sense of purpose, focus, direction, preparation, and artistry," Shook says.   "I'm genuinely proud of these young people--how they embody the knowledge and process Jennifer Hemphill provides them plus the internal initiative the performing arts faculty members nourish in these students."