News
June 17, 2019
The Southwestern College Summer Theatre Festival will present "Newsies" on Friday and Saturday, July 12 and 13, at 7:30 p.m., and on Sunday, July 14, at 2 p.m., in the Richardson Performing Arts Center in the Christy Administration Building on the campus of Southwestern College.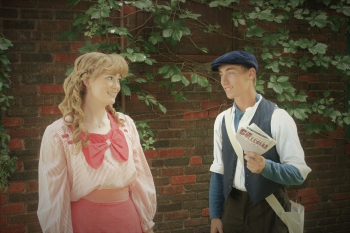 Set in turn-of-the-century New York City, "Newsies" is the rousing tale of Jack Kelly, a charismatic newsboy and leader of a band of teenaged newsies. When titans of publishing raise distribution prices at the newsboys' expense, Jack rallies newsies from across the city to strike against the unfair conditions and fight for what's right.
Based on the 1992 motion picture and inspired by a true story, "Newsies" features a Tony Award-winning score by Alan Menken ("Little Shop of Horrors," "Sister Act") and Jack Feldman and a book by Tony Award winner Harvey Fierstein ("Kinky Boots"). "Newsies" features the now-classic songs "Carrying the Banner," "Seize the Day," and "Santa Fe."
"'Newsies' is the perfect show for the entire family," says director Allyson Moon.  "It has high entertainment value featuring spectacular song and dance numbers and inspiring characters.  It is also based on a great story – a story that was inspired by the lives of hard-working newsboys at the turn of the 19th to 20th centuries when child labor laws did not exist.  Theirs is a story of great courage as they inspired workers throughout New York City to stand up for fair wages and safer conditions."
Along with Moon directing, Matt Berthot is the musical director, and Isaiah Mahon is the choreographer.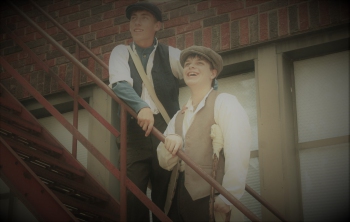 Cast members include KC Crandall as Jack Kelly; John Moberly as Crutchie; Emmanuel Paz as Davey; Sophie Sarnacki as Katherine Plumber; Evie Quiett as Les; Brandon Oleson as Darcy; Adam Cantu as Bill; Lizzy Santana as Wiesel; Ashton Adams and Kody Frazier as Delancey brothers; Nick Albrecht as Joseph Pulitzer; Andrue Gill as Seitz; Shawn Knepper as Bunsen; Maya Damron as Hannah; Ashton Adams as Nunzio; Garrett Bogle as Snyder; Noah Rye as Spot Conlon; Megan Dougherty, Micah Greenlee, Sydney Sisk, Madilynn Sanderholm, Tristan Romero, Riley Biddle, Jacob Giger, Bella Wood, Adam Cantu, Chloe Curl, Joseph Procter, Noah Rye, Riquandrion Mangum, and Elias Moon as Jack's Newsies; Donald Prater, Matthew Mattocks, Serephina Goodson, and Clover Maples as Scabs; Katherine Lenz, Brandon Oleson, Jenni Warren, Kody Frazier, Maya Damron, Donald Prater, Emma Bate, Matthew Mattocks, Ashton Adams, Andrue Gill, Shawn Knepper, Clover Maples, and Serephina Goodson as Rally Newsies; Seraphina Goodson, Clover Maples, Elias Moon, Medda Larkin, and Jessica Burk as Refuge Children; Maya Damron and Jenni Warren as Bowery Beauties; Matt Berthot as Mayor; Donald Prater and Matthew Mattocks as Policemen; Shawn Knepper as man buying a newspaper; Katherine Lenz as a woman buying a newspaper; Maya Damron, Jenni Warren, and Emma Bate as Nuns; Clover Maples, Serephina Goodson, Ashton Adams, Katherine Lenz, Brandon Oleson, Kody Frazier, and Donald Prater as Townspeople; and Emma Bate as Stage Manager.
Ticket prices are $12 for adults, $10 for seniors, and $6 youth or students.  Individuals can order tickets by calling (620) 221-7720, (620) 229-6272, or by emailing boxoffice@sckans.edu.