News
June 09, 2022
The Southwestern College Summer Theatre Festival will present Nickelodeon's "SpongeBob The Musical" on Friday and Saturday, June 24 and 25 at 7:30 p.m., and Sunday, June 26 at 2 p.m., in the Richardson Performing Arts Center on the campus of Southwestern College. The production is family-friendly and intended for all ages to enjoy.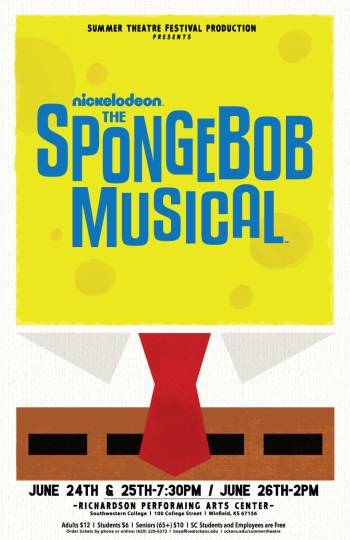 Under the direction of Joshua Robinson, the production will feature a cast and crew of children, community members, college students, and alumni.
According to Robinson, "SpongeBob The Musical" will take the audience on a unique journey through the Nickelodeon classic with the stakes higher than ever as the characters that you know and love must save Bikini Bottom from total destruction.
"'The SpongeBob Musical' will delight audiences, whether or not they're familiar with the beloved cartoon," Robinson says.  "The musical is a fun, zany romp, but also has a wonderful, timely message about what happens when a community faces a crisis. The musical is as moving as it is hilarious"
The cast will include John Moberly as SpongeBob Square Pants; Timmy Remington as Patrick Starr; Kathrynne Giger as Sandy Cheeks; Nathan Osterle as Squidward Tentacles; Nick Albrecht as Eugene Krabs; Emily Robinson as Pearl Krabs; Ryan Brown as Sheldon Plankton; Maya Damron as Karen; Jamieson Campo as French Narrator/Foley Fish; Jacob Giger as Patchy the Pirate and Johnny the Bartender; Whit Emerson as Perch Perkins; Josi Schwartz as Mayor of Bikini Bottom; Markie Swanson as Mrs. Puff; Kyle Brandon Smith as Larry the Lobster; Seaf Bate as Old Man Jenkins; Alia Dust as Buster Bluetang; Alice Payton as Gary the Snail; Gabe Gonzalez and Lizzy Santana as Security Guards; and Seaf Bate, Alia Dust, Evan Quiett and Copeland Quiett as The Electric Skates.
Other cast members include: Seaf Bate, Seraphina Goodson, Ruthie Lashier, Katie Miller, Amy Jo McWhirt, Cora Moon, Millicent Poovey, Copeland Quiett, Evan Quiett, Nadia Smith, Peyton Smith, Kayden Tarver, Mary Tyler, and Norah Wolf as citizens of Bikini Bottom; Violet Ferguson as Sardine Devotee #1; Maximus Berthot as Sardine Devotee #2; Austin Schwartz as Sardine Devotee #3; Nadia Smith as Sardine Devotee #4; Mary Tyler as Sardine Devotee #5; and Claire Heilig, Maxie Poovey, Monroe Poovey, Jarrett Schwartz, Connor White, and Macy White as Sardines. 
Ticket prices are $12 for adults, $10 for seniors, and $6 for youth and students. To purchase tickets online, go to https://www.showclix.com/event/the-spongebob-musical. To make a reservation call (620) 221-7720, or email boxoffice@sckans.edu.