News
August 30, 2022
As part of a community-wide celebration of the 50th Walnut Valley Festival, Southwestern College will, for the first time, produce Ken Gale's "Winfield, A Bluegrass Musical," Friday and Saturday, Sept. 9 and 10, at 7:30 p.m., and Sunday, Sept. 11, at 2:30 p.m., in the Richardson Performing Arts Center. 
Set at the campgrounds during the festival, the musical tells the story of a first-time attendee who finds love, family, and himself among the strummers and pickers who inhabit the festival campgrounds. Armed with a guitar, his best friend, and a new song, Dusty encounters the ethereal Celeste and falls hard. Along the way, he meets Peg and the pickers of Pirate Camp, Cookie and the Mutineer camp strummers, and the mystical musical minions who inhabit the woods by the Walnut River.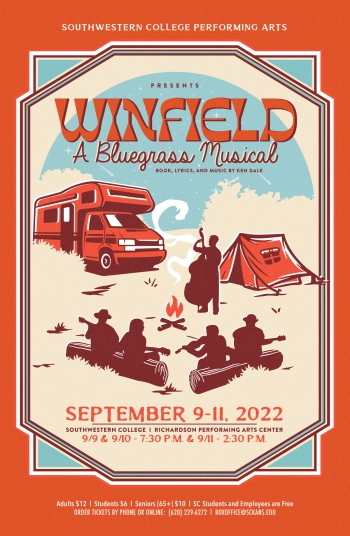 The music and script were written by Ken Gale, who has attended Winfield, taken part in the NewSong Showcase, and writes musicals in his spare time. The show is designed to be performed with musicians playing traditional bluegrass instruments on stage and taking part in the musical, rather than as an offstage accompaniment. 
Director Allyson Moon says the rehearsal time has been limited but thanks to Seth Bate and Ken Gale, the production is ready to go.
"We have had a rather short rehearsal time, basically four weeks, to put together this original musical," Moon says.  But Seth (Bate) and Ken (Gale) organized several summer sessions among the instrumentalists and vocalists, and that provided a significant and amazing head start."
The cast list includes: Sarah McQuery as Peg; Jacob Giger as Dusty; John Moberly as Bobby; Maya Damron as Celeste; and festival campers Jenny Muret Bate, Jordan Burford, Allison Hughes, David Hughes, Mary Jarvis, Gail Ranger, and Chris Rogers.  Seaf Bate will be the master of ceremonies and play the autoharp and bodhran and Seth Bate plays the part of Cookie while playing the autoharp and ukulele.
Other instrumentalists include: Ron Dorsey, mandolin; Ken Gale, guitar and banjo; Darin Lee, bass; Mike Lloyd, banjo; Jeff Morrison, guitar and mandolin; Janet Rhoads, fiddle; and Kim Matthews, flute and piccolo.
The production team includes: Allyson Moon, director; Ken Gale, instrumental director; Simon Hill, vocal director; Aubrey Richter, stage manager; Nathan Oesterle, scenic and sound designer; John Badley, lighting designer; and Emily Rose Parman, costume designer.
Admission charge is $12 for adults, $6 for students, $10 for seniors (65+), and SC students and employees are free on Friday and Saturday. Sunday admission is free for anyone with a Walnut Valley Festival wristband.  For ordering online Sunday tickets, use discount code "WVF50". Southwestern will provide transportation from the festival to the show and back. For tickets or other information, call (620) 229-6272, or email boxoffice@sckans.edu.