News
February 25, 2011
The Southwestern College theatre department is outdoing itself for the upcoming production of Kander & Ebb's musical "Chicago." In addition to a talented cast, the college is working hard to ensure the success of all the creative elements of this musical.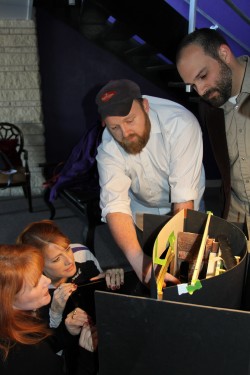 Allyson Moon, assistant professor of theatre at SC and the director for "Chicago" and Roger Moon, theatre professor and production manager, have brought in a wide variety of guest artists, including nationally recognized designers. The guest artists support the success of technical elements of a complex musical while providing an outstanding learning opportunity for SC's theatre students.  Guest artists include sets, lighting, and costume designers, as well as choreographer, music director, and conductor.
           
The set design will be created by professional designer and SC alumnus Brandon Smith. After graduating from SC in 1998, Smith went on to study in London, and then spent another semester studying in Bulgaria. He received an M.F.A. in Design from New York University's Tisch School of the Arts in 2004 and has been busy professionally since that time. Smith has worked in theatre, film, production design, set design, graphic arts, and television. His most recent projects include graphic design for "Law and Order: SVU," an upcoming graphic design project with Seth McFarlane, and many others. His most recent set design project was "Gum" in NYC.  Winfield audiences may know Smith's work on sets for SC's Horsefeathers and Applesauce including "One Flew Over the Cuckoo's Nest," "Children of Eden," and "The Wizard of Oz."  
           
Smith says that designing a set for a show as complex as "Chicago" presents its share of challenges, though those toughest challenges are also his favorite parts.
           
"The toughest challenge is trying to fit a 16-piece orchestra on stage," Smith says. "With music this complicated and stunning, it's a truly enjoyable experience for the audience to not only watch the performers, but also witness firsthand the music as its being created."
           
This is particularly challenging because "Chicago" has to be performed in Messenger Recital Hall while Richardson Auditorium is shut down for renovation. The Messenger stage is small, with very little room back stage. Smith has fitted performers, musicians, and set on stage by building a stage extension into the auditorium. 
           
The Richardson renovation also presents an interesting challenge for Smith and the set construction crew. 

"As a result (of the renovation), our technical director is having to build the set outdoors and in the space itself," Smith said.
           
Smith is excited not only to work with the Moons, but to work with one of his former NYU colleagues, Aaron Mooney, who was hired to do the lighting design for "Chicago."
           
Aaron Mooney received a B.A. in theatre education from Tulsa University and then his M.F.A. in lighting design from NYU. 
           
"Theatrical lighting is a perfect fit for my brain, as it mixes the math and physics of electricity with the art of illumination," Mooney says.
           
In New York, he designed lights for small theatre pieces, museums, fashion windows, and special events at Barney's New York. He's also designed lights for a wide variety of venues; some smaller than Messenger and some as large as Radio City Music Hall.
           
"'Chicago' is a wonderful musical," Mooney says. "My favorite aspect of this show has to be the variety of musical numbers. From lonely solos, to powerful duets, to flashy group numbers, this show has it all." 
           
Designing lights for this production, as with any, presents a number of challenges. With SC's limited selection of lights and small budget, Mooney said a challenge will be making the show as flashy as possible. The layout of the theatre is another challenge.

"The theatre was truly built for recitals and concerts, with lighting positions in odd places for our purposes," Mooney says.
           
Also working with "Chicago" are three Winfield artists. Susan Camp, dance teacher at Southwestern and director of Winfield's Dance Camp Studios, is choreographer; Yvonne Marcotte is costume designer; and Cynthia Compton, musical director.
            
Marcotte received her B.A. in theatre from Marymount College and her M.A from Oklahoma State University.

"She is a director, designer, performer, creator of untold talents," says Roger Moon.  She recently became involved in the theatre scene in Winfield costuming the Marquee production of "Thoroughly Modern Millie" and "Footloose" for Winfield High School.  She is also costuming the upcoming "Vikings on Broadway" for the second year in a row. 
           
Musical director for "Chicago" is Winfield's Cynthia Compton.  Southwestern College's band and jazz band director Jimmy Leach will be the bandleader.  
"I am the musical traffic cop," said Leach, who says his favorite part of this production is how challenging the music is for his musicians. "They're learning new styles, impossible keys, very difficult rhythms, and fast tempos."
           
Ukulele, violin, and saxophones are just a few of the many instruments being used for "Chicago." Some of the music actually requires three musicians to play seven different instruments throughout the show. Thankfully, according to Leach, he has four talented players who can cover most of those.
            
"Chicago" opens March 3 and runs through the March 6. For tickets call (620) 221-7720 or SC's performing arts office, (620) 229-6272.