News
June 07, 2011
As Southwestern College launches its Summer 2011 Theatre Festival, laughter will ring out across the Walnut Valley.  Winfield and regional audiences will have the opportunity to experience three extraordinary evenings of dinner theatre as Horsefeathers & Applesauce alumni present the "Tuna Trilogy" to raise money for Southwestern's new performing arts center.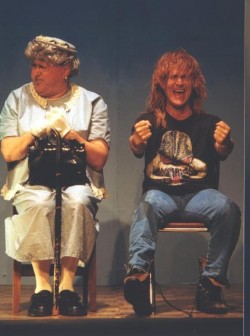 On Sunday, June 12, the 2011 Theatre Festival will open with lunch and one performance only of the home-fried comedy "Greater Tuna." On Saturday, June 18, there will be dinner and one performance of "A Tuna Christmas." "Red, White & Tuna," the third play in the Tuna trilogy, will play with dinner for three nights on June 30, and July 1 and 2. 

The Tuna trilogy of plays feature two actors, Horsefeathers & Applesauce alums, Dan E. Campbell and Roger Moon, who bring to life more than 24 characters, including men, women, and critters.  The three comedies are known for their split-second costume changes and side-splitting storylines which guarantee an uproarious theatre.  

"Greater Tuna" is the first play in the trilogy, set in the third smallest town in Texas. Judge Roscoe Buckner has died, which sets off a chain of events that impact every character in Tuna. For the performance on Sunday, June 12, Allyson Moon is directing Moon and Campbell in a staged reading with the two actors never leaving the stage. 

"They'll switch characters right before our eyes," explained Allyson of the style she is helping them create.  "The audience will see pictures of the characters in costumes from the 1994 and 2004 productions, accompanied by sound and lighting effects." 

The lunch will be served by Sodexo in the Roy L. Smith dining hall at 12:30 p.m., with a 2 p.m. show performance. 

Tuna, Texas, is not unfamiliar territory for the acting team.  Campbell, a Los Angeles actor originally from Wichita, starred in "Greater Tuna" and "A Tuna Christmas" with Moon when SC's summer theatre Horsefeathers & Applesauce produced the two plays in the '90s. The duo performed "Greater Tuna" again during the Horsefeathers closing season in 2004.

"The Tuna series has been popular with Winfield and regional audiences.  Dan brought the script to the attention of the H&A company and suggested that he and Roger do it in 1994," said Allyson Moon, who directed H&A productions.  "Some audience members would come multiple nights in a run just to watch the fast-paced hilarity of those two and the world they created."

"When Dan came to Horsefeathers in 1975, our third H&A season," says Roger Moon, "he clearly was a funny guy with a great sense of humor off stage and great comedy skills on stage. I got to work with him during those years of Horsefeathers, both as a fellow actor and as his director. Audiences love him as much as company members enjoy working with him. Then he found these crazy plays and said 'Let's do them.'"

"As small town people, these plays are really fun to watch," said Roger Moon, SC theatre professor who plays 13 characters in the three plays.  "A comedy about small town life—we recognize our fellow citizens and neighbors, our relatives, and ourselves in those characters."

Campbell began working on Roger, along with Allyson Moon, two years ago as he offered to help Southwestern and Winfield by staging the trilogy to raise money for the multi-million dollar renovation of Richardson Auditorium as a new performing arts center.

"In 2008 when Southwestern announced the performing arts initiative, Dan called and wanted to do something to help," says Allyson.  "Norman and Roxy Callison, founders of Horsefeathers and Applesauce, were dealing with Norman's illness which led to his death in 2009. Dan wanted to do something to help.  Though Dan was not an SC alum, Horsefeathers made a significant difference in his life, and he knows how much difference it made in the lives of SC theatre students and others who were part of the companies through the years.  He also knew the significant difference Horsefeathers made to the audiences of Winfield and the Kansas and Oklahoma region.  Horsefeathers wouldn't have happened without Norman and Roxy, and Dan wanted to do something to help honor them and make a difference for Southwestern, its theatre and its audiences.  We all hope doing the 'Tuna Trilogy' will make a difference and bring joy to our audiences at the same time."
Doing theatre periodically at SC from 1975 to 2004 was a major part of his life, Campbell explained. 

"Theatre in those summers was the thrill of being immersed in what you want to do. Doing theatre, talking theatre, having the best time doing it and giving that joy to audiences," says Campbell.

Campbell is excited that the Tuna project is a fundraiser for the Richardson renovation, which still has significant funds to raise for the theatre equipment needed to make the theatre the premier theatre space that SC is creating.  

"I hope we can bring a lot of laughter to Winfield this summer and joy for years to come by creating a top notch performance space for the performing arts and its audiences," he says.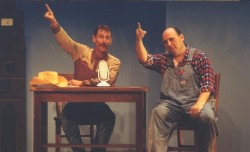 In the sequel "A Tuna Christmas," to be presented on Saturday, June 18, it's the holidays and radio personalities Thurston Wheelis and Arles Struvie report on Tuna's yuletide festivities, including fierce competition in Tuna's annual lawn display contest.  The Christmas Phantom is once again on the loose to throw a monkey wrench into the works. "A Tuna Christmas" will also be presented as a staged reading. A holiday dinner will be served in the H&A style at 6 p.m. with a 7:30 p.m. performance.

The fully staged "Red, White & Tuna," directed by Allyson Moon, will run from June 30 to July 2. "Red, White & Tuna" is the third installment in the Tuna trilogy, celebrating Independence Day with Tuna's preparation for its annual high school reunions. Dinner will again be at 6 p.m. with performances in Messenger Recital Hall at 7:30 p.m.

Show only ticket prices are $10 for adults and $5 for students.  Dinner and show ticket prices are $25 for adults, $23 for senior citizens, $20 for ages 13-18, and $18 for ages 12 and under.  For tickets or more information about the performances call the SC box office at (620) 221-7720.