Moundbuilder Marriages

Many Builders find their lifelong sweethearts while on the hill. This is a page to celebrate the magic bond when Builder hearts Builder!
Moundbuilder Marriage Renewal Ceremony
On February 12, 2011, as a part of the 125th Anniversary Celebration of Southwestern, a special Marriage Renewal Ceremony was held. It offered many SC sweethearts a chance to return to campus and celebrate a romantic Valentine's Day "where it all began."
The event included:
"A Chocolate Affair" reception and professional photos taken of each couple
Couples lined up and wives received a rose
Marriage Renewal Ceremony by Rev. Ashlee Alley '98
Valentine Bingo with conversation hearts for Bingo markers and chocolate hearts for prizes of each game
Romantic Dinner with Your Valentine
Decade Hosts for this great event were:
50s: Deryl '57 & Anita (Martin) Schuster '57
60s: Bud '63 & Maridene (Witter) Akin '63
70s: Jim '75 & Robbie (Gilger) Banks '72
80s: Dick '82 & Dawn (Kemph) See '83
90s: Shane '99 & Sara (Montgomery) Batchelder '99
00s: Caleb '07 & Leah (Rankin) Hartman '07
---
Moundbuilder Marriage Bricks Available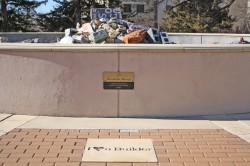 If you are interested in leaving a permanent record of your Moundbuilder Marriage for other alumni to see, you may order a brick for the segment of the Mound which is reserved exclusively for those couples who married their Southwestern sweethearts. The bricks are not expensive, only $10 per month for one year ($120 per brick), and the engraving will last forever, just like your love!
Please contact Jessica Dibble, director of development, at (800) 846-1543 ext. 6155 or email at Jessica.Dibble@sckans.edu for ordering instructions.
---
Moundbuilder Marriage Stories
Did you meet your sweetheart at SC? Tell us your story! Email Susan your story and we'll be posting them here on the Moundbuilder Marriages page.
BILL '74 and LORI (ALEXANDER) BORGER '76
On the theme of Moundbuilder Marriages, here's our fun story: The day I came to VISIT Southwestern as a H.S. Senior, Bill was in final dress rehearsal for the USO tour. My girlfriend was with me, and since I was interested in music and theatre, they of course had us go see this rehearsal because it was pretty impressive that this little college had gotten this USO gig!! Bill was playing Johnny Brown in The Unsinkable Molly Brown - - and before the show was over, I turned to my girlfriend and said with complete certainty: "I am going to marry that guy someday." I just knew it.

The rest is history - - we were dating by my 2nd semester, and were married my senior year. We were married in 3 different productions at SC before we were actually married, too - between Horsefeathers and SC productions. ("1776", "Beggar's Opera" and "Trial By Jury") It's always fun to tell people the story of how we met - and it's of course one of our favorite things about Southwestern - that we found each other there!

We'll be married 35 years December 2010!! :-)
TONY '75 and JANA (BOYLAN) LEDDY '75
Tony and Jana met on the first day of school for their junior year. It was raining and as they made a mad dash up the 77 steps toward Christy Hall, Jana offered to share her umbrella with him. Tony was awestruck and says that the rest was history! Jana says that an anthropology field trip to Sante Fe, NM, (Ed Salm's class) led to dating, engagement, and a wedding before their senior year. Both have fond memories of those days (they've been married 36 years in August 2010), and Tony expresses thanks to Brad Bennett for inviting him to come to Southwestern College, where he met the love of his life.
CALEB '07 and LEAH (RANKIN) HARTMAN '07,'08
Caleb and Leah both started college at SC in the fall of 2003. Neither Caleb nor Leah remember officially meeting each other. Southwestern is a small enough community that they both remember always having known the other. Caleb and Leah had a couple mutual activities and a few mutual friends, but they did not spend much time together initially. Sometime during their freshmen year, and without Leah knowing, Caleb told a friend that someday he was going to try to date Leah. Aware that most people do not marry the first person they date in college, Caleb did not want to risk the relationship not working out by jumping the gun. He wanted to wait until he was good and ready. Likewise, sometime during their sophomore year, and without Caleb knowing, Leah told her roommate that she would "date Caleb Hartman." It wasn't until the spring semester of their junior year that Caleb decided he was ready. He asked Leah out on their first date, and before Leah even realized what was happening, she accepted his invitation. The relationship was marriage potential long before it ever began, and both Caleb and Leah knew it. The couple dated for three years, surviving two cases of cold feet and two years of a long distance relationship. After all was said and done, Caleb and Leah were married on July 25, 2009. They had their wedding reception in the dining hall at Southwestern College in honor of the place where it all started.
LOIS (DRYDEN) VASEY '49 and CLYDE VASEY '51
Lois and Clyde started at SC in the fall of 1945 but the Navy called Clyde at the end of the 1st semester...during that time they did not know each other. In Jan 1948 Clyde started his 2nd semester Freshman year and in the fall of 1948 began to work in the cafeteria at Smith Hall washing dishes. Lois had been working at the cafeteria for some time and had a soft job of making coffee. After she finished cleaning out the coffee pot and Clyde finished washing dishes they usually walked to their rooms together, Lois at East Hall and Clyde at Mrs. Nevels, both on Houston Street. One day Clyde asked "Dryden" if she wanted to go see a movie and she accepted...... beginning a litany of activity which has continued for over 61 years. They were married in August 1949. As luck would have it, they returned to their beloved Southwestern community to live in 2006.
MARK ARTHUR '62 and JUDY (WEDEL) ARTHER '62
"When Mark Met Judy"

Being a freshman at Southwestern, I was busy finding my way back to my dorm room, trying to remember my class schedule and boxing up my dirty clothes to send home for washing and ironing.

By second semester, all that being accomplished, I looked around and found all the freshman girls had upper-class boyfriends.

That was not going to happen again.

The next fall, on the first day freshman were on campus, I positioned myself on the retaining wall outside Smith Hall to watch the freshman girls leave after lunch. And there she was, amid a laughing, electric, vibrant group of girls who surrounded her - slender, beautiful and with a smile so warm my temperature must have gone up ten degrees.

After discovering her name was Judy Wedel and her dorm, I called and asked her for a date. She did her research and called back, thanking me but advising she didn't date married men. Strenuous persuasion was required to convince her that I had been confused with my freshman roommate, Ken Strobel.

The rest, as they say, is history.
LES KUHNS '72 and JEANETTE (DIAL) KUHNS '72
We won the Newlywed Game at a party by agreeing that all of our answers were 5. We did have to answer that we kissed 5 times a day, which was embarrassing and not true! We won tickets to a show we were both in.
JOSHUA WHEATLEY '00 and KELLIE (POWELL) WHEATLEY '98
It was October after SC Invite (CC), and I was feeling sorry for myself since I had a bad race. I complained how no one loves me and Kellie chimed in that she does. That was the first time she told me that she loved me. I knew then and there no matter how bad things got for me in whatever I was trying to accomplish Kellie would be there.
DERYL SCHUSTER '57 and ANITA JEAN (MARTIN) SCHUSTER '57
Freshman Class (1953) Mixer where we first met. Choir trip in 1955 when we first dated. Living in the old marriage couple barracks our first year of marriage. We owe a lot to ole SC!
STEVE WILKE '78 and BETH (RICHARDSON) WILKE '78
Steve and I started dating in high school, and became engaged our freshman year at Southwestern. We were married over spring break our sophomore year. And then our senior year we served as house parents at Wallingford. Wonderful memories at Southwestern!
JAMES [JIM] HARRIS '64 and RITA [KAY] (McDERMEIT) HARRIS '67
I have so many special memories, I wouldn't know where to start. There is one, however, that I will share:

The afternoon of the day of the wedding, tornado sirens went off, electricity went off, and stayed off until about 6:45, with the wedding scheduled at 7:00. All wedding preparations had to be done by candlelight or flashlights.
RICHARD SEE '82 and DAWN (KEMPH) SEE '83
The first time I met "Dick See" I thought I was going to meet "Dixie." Even so, I told my roommate when he walked out the door that he was the man I was going to marry and here we are thirty-some years later.
HAROLD MURRAY '70 and NANCY (COCKRUM) MURRAY '72
Dr. Laws sent Nancy to see me to be her math tutor. The rest is history!
TOM WORSTELL '76 and CHRISTINE (CORNETTI) WORSTELL '77
My wife and I will not be able to attend. We wanted to send you this photo. We met while at SC and were married in the SC college chapel on October 16, 1976. We were married by Dr. Wallace Gray, depicted in the photo along with fellow students Tom DeRuggiero (best man); Curtis Watts (usher), and my sister, Pearl Williamson.
RON HAYNES '67 and JUDY (MARTIN) HAYNES '67
Married at Augusta 1st Baptist Church, June 24, 1967

We did not know each other before coming to college, but had been friends since our freshman year at Southwestern. As music majors, we were cast as two leads in "The Fantastics!" We had a long kiss scene. This was in March of our senior year. A fast relationship developed and we were married in June. (Judy was "penned" to another fellow music major at the time the musical started.)
LOUIS KLITZKE '53 and HELEN (PLOUGHE) KLITZKE '53
This is a great idea and I did marry my Southwestern College sweetheart, Helen Elizabeth Ploughe June 6, 1953. I had just graduated in May. We met in September of 1951 and fell in love almost immediately, and are still in love almost 60 years later. However, we are unable to come to the big celebration due to health reasons. We will remember this event this year as we again for the 59th time, celebrate a thankful and blessed occasion of love in our lives.
ELDON MILBURN '57 and PAT (RIDGWAY) MILBURN '56
We were married by Dr. E. Dale Dunlap, Associate Professor of Bible, Philosophy & Religion, and Dean of the College at Southwestern. Our relationship with him was an example of the bond between faculty and students that existed on our close knit campus in the 1950's, as we're sure it does today. Dr. Dunlap counseled us before our marriage, and he and Fran set an example of love, trust and cooperative excellence as a couple that we've attempted to emulate.

We were fortunate to continue our friendship as in the late '50's, Dr. Dunlap's family moved to Kansas City when he accepted a position at St. Paul's School of Theology and Eldon accepted a teaching/ coaching position at Rosedale High School in Kansas City, KS. Our homes were approximately a mile apart, we attended the same church and Dr. Dunlap baptized our three children.

What a blessing to have known such a great man that positively affected our lives and brought so much respect and honor to Southwestern.
DOUGLAS WOLFF '93 and ALICIA (LINDAL) WOLFF '97
Right foot red! Left foot yellow! Doug & Alicia Wolff first met during a SAA Twister game at SC. Alicia's roomate, Robin Hathaway, noticed the tangled pair and thought they would make a cute couple, so she "arranged" a study meeting at the library. For their first date, Doug & Alicia dined at the Olive Garden. 4 years of dating and 14 years of marriage later, they still enjoy a trip to the Olive Garden now and then. However, one will most likely find them enjoying the fine cuisine of Chick Fil-A with daughters Havely (6) and Emilie (3).
JIM VANEK '71 and VIRGINIA (LUNGREN) VANEK '69
We met in the college cafeteria. I was working the salad bar when these obnoxious football players would come in. Needless to say, I had to ask a friend who that good looking tall one was. After some flirting on both parts, he asked me out in December of Jim's freshman year and married after he graduated.
DAVID CONKLIN '58 and GYLA (BROCK) CONKLIN '58
Our first date happened at the first activity – Campus Y – watermelon feed and hayride in the fall of 1954. David asked me to go to the movie after the hayride.
ROBERT "DON" GIFFORD '93 and GLORIA (MOREY) GIFFORD '93
We did not start dating until our last semester our Senior year at Southwestern. Gloria was from Spain and I was from a small town in Oklahoma. The odds of us finding that special bond would seem unlikely by most odds-makers in Las Vegas, however we went together like peas and carrots. Gloria's birthday was on Easter Sunday. I surprised her by picking her up before dawn and taking her to the roof of Christy (yes - on top of the roof) to watch the sunrise while we celebrated with candles on cinammon rolls. Even though she had to return to Spain, the spark remained and I flew to her 8 months later to propose. I have enjoyed every sunrise every since.
KEN EVERHART '57 and SHIRLEY (MARSH) EVERHART '56
Ken Everhart came to Southwestern for the fall semester of 1953. He had graduated from Dodge City High School in 1952 where he had received state honors in football and also played basketball for Coach Jack Cotton who was the new basketball coach at SC in 1953. Ken had joined the Marines on a buddy system after high school, but after two months in boot camp in San Diego he became quite ill, was hospitalized and then was given a medical discharge for a foreign object in his lung. It was discovered Ken had the foreign object on his X-rays at the time of his induction in KC. He came back to Dodge City in July and Coach Cotton brought Coach Carroll to Dodge City to recruit him to SC that fall. Ken arrived at SC in late August for football practice which was, coincidentally, the same time as the Cowley County Fair in Winfield. Coach Cotton and Coach Carroll were good friends of Worrall Clift, a big Southwestern sports fan, who co-owned Marsh's Shoe Store with his father-in-law, A. G. Marsh. The coaches and Worrall decided they needed to introduce Shirley Marsh to Ken, and worked out a plan for Ken to meet Shirley, Worrall's sister-in-law, who was a sophomore at SC. They told Ken to go to Marsh's Shoe Store and tell Mr. Clift that "I am Ken Everhart from Dodge City and I heard you have a good-looking pair of shoes to show me." The meeting was arranged for the time the parade for the county fair was being held on Main Street.

Ken went to the store prior to the parade and knew when he walked in, the only person working was A. G. Marsh's daughter, Shirley. Ken knew she was the one he was supposed to meet, but she wasn't aware of the arrangements. Worrall Clift, to whom he was supposed to introduce himself, wasn't inside and when Shirley came and asked if she could help him, Ken stuttered and stammered and said, "I was just looking around." They began to talk and since the parade was about to start, Ken asked Shirley if she was going out to see the parade and when she said "Yes", he told her maybe he'd see her out in front. The two stood and talked during the parade and when it was over, Ken asked Shirley if she'd like to go to Graves Drug Store for a coke. Since she was working, she said she'd have to check with Worrall to see if she could leave for a short time. That wasn't exactly the way the trio had arranged the meeting, but the coke date worked out and that was the start of their love story!

The couple dated all that year when Shirley was a sophomore and Ken was a freshman at SC. Shirley transferred to Oklahoma State the next fall for her junior year and Darrell Falen, another SC football player, and Ken spent nearly every weekend that year driving to OSU. Darrell was dating his future wife, Carol Detter, from Winfield, who also attended OSU. The next two years were spent with lots of road trips to OSU and in June of 1956, after Shirley graduated from OSU, Ken and Shirley were married in Winfield on July 1. The Everhart's lived across from Smith Hall in an apartment on Warren Street while Ken finished his senior year. After graduation, Ken was hired by the Winfield Scholl District to be assistant football coach and PE teacher, a position he held for three years. The fourth year, Ken was the head football coach and PE teacher at Winfield. Although the Everharts really enjoyed their time in Winfield, Ken had developed some health issues related to his discharge from the Marines which prevented him from coaching another year. After treatment and hospitalization several times in Winfield and at the KU Medical Center, and later surgery at KU Med Center in June that last year, Ken realized he had to give up his dream of coaching and look for another job. Fortunately, Ken was offered a job in Wellington that summer as Superintendent of Recreation for the school district – a position Ken held from 1961 until 1989 when he retired. It wasn't coaching, but it was involvement with young people and sports! The couple moved to Winfield in 2009 and live at Cumbernauld Village.
WILLIAM "BILL" NEELY '53 and LUELLA (SCARROW) NEELY '54
Bill attended Southwestern one year and then went to KU for almost another year. He was drafted for two years. After his time in service was spent at the Army Finance Center in St. Louis, he returned to Southwestern for a final year of college. In the meantime, Luella graduated from Wesley Hospital of Nursing in Wichita, KS, and became the college nurse at SC at the end of September 1951.

When Bill came to Southwestern, he was told to check in with the college nurse about a physical exam, which all students needed to have to enter at that time. He contacted the nurse, Luella, and said he had taken a physical exam before leaving the service and therefore didn't need one again. She informed him that he must present a paper or statement that it had been done so she could file it in his record in her office. He brought in a copy of the exam and Luellla filed it.

Both were older than the majority of the students. Bill wanted to get married that year. Luella told him no, because she needed to get her degree before she left Southwestern as the nurse. Bill found employment at the Fourth National Bank in Wichita, and made weekend trips to see Luella at SC all the next year. He graduated from SC in 1953 and she graduated in 1954. They were married on June 27, 1954, in the United Methodist Church in Goodland, KS, Luella's hometown. They celebrated their 50th anniversary in 2004.
RAYMOND NICHOLS '50 and VIRGINIA (CHISM) NICHOLS '53
Virginia's roommate was Donna Nichols. She sat next to Raymond in chapel. When Donna and Virginia would go to the football games at Southwestern, she would point Raymond out to her. He later called her and asked her out. This first date was the night after Richardson Hall burned. Raymond graduated in May.

Virginia's home town was Anthony and Raymond's friend, Max Rife, was also from Anthony. Raymond ended up working that summer for Max's father. We still continued to see each other. We were married that August. Now, 60 years later, we still put up with each other.