Board Members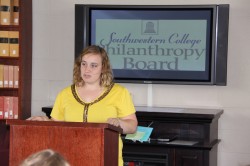 Board positions are open to all members of the Southwestern College service learning programs, Leadership Southwestern, Discipleship Southwestern, and Green Team Southwestern. The board meets monthly to promote awareness of philanthropy on the campus and in the community and to work on designing its annual funding proposal. Current SCPB members include:
Apply Now!
Michael Bond michael.bond@sckans.edu
Katy Hamilton katy.hamilton@sckans.edu
Lauren Strain lauren.strain@sckans.edu
Caitlin Harris Caitlin.Harris@sckans.edu
Brandi Young Brandi.Young@sckans.edu
There are currently board spots open for interested students. Board experience and the chance to award grant funds are unique opportunities for college students. If you have questions about becoming a member, please contact one of the students above or board advisor Lindsay Wilke at scpb@sckans.edu or (620) 229-6393.