Grant Recipients
Grant Awards
Each year the Southwestern College Philanthropy Board (SCPB) awards grant funding to one or more nonprofit organizations that respond the board's request for proposals (RFP's). Throughout the past five years of its existence, the SCPB has distrubted more than $18,600 into the Cowley County community! If you are interested in applying for grant funding, you can find out more information on the RFP forms page or email scpb@sckans.edu. Below are some of the past grant recipients.
Fall 2014: Safe Homes & Eastern Cowley County Resource Center (ECCRC)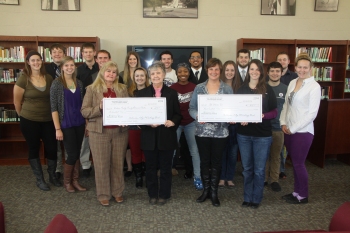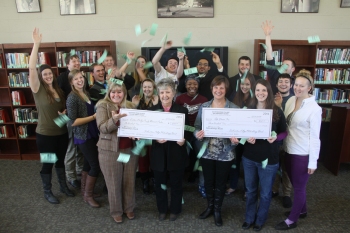 SCPB members presented the most recent grant of $900 to Safe Homes, Inc. Safe Homes, Inc., serves survivors of domestic violence and sexual assault in South Central Kansas. The funds granted will be used to fund educational classes at the shelter covering the following topics: crock-pot cooking, nutrition and menu planning, and parenting and home safety. The SCPB members also granted $600 to the Eastern Cowley County Resource Center (ECCRC). ECCRC was founded in 2003 with a focus on computers and reading literacy. The funds granted to ECCRC will go towards improving the organization's ability to serve as an official GED testing site; improvements that can be made utilizing the funding include: website/email upgrades, computers, new tables/shelving, and GED related software.
Past Recipients
Fall 2013 - Preferred Family Healthcare (PFH) and Community Learning Center

2013 - Mid-Kansas Community Action Program

2012 - Eastern Cowley County Resource Center, Family Life Services, and Eagle Nest

2011 - Creative Community Living and First United Methodist Church Winfield

2010 – Community Learning Center