Philanthropy Board
Grant Recipients
Grant Awards
Each year the Southwestern College Philanthropy Board (SCPB) awards grant funding to one or more nonprofit organizations that respond the board's request for proposals (RFP's). Throughout the past three years of its existence, the SCPB has distrubted more than $14,100 into the Cowley County community! If you are interested in applying for grant funding, you can find out more information on the RFP forms page. Below are some of the past grant recipients.
Creative Community Living and First United Methodist Church Winfield, 2011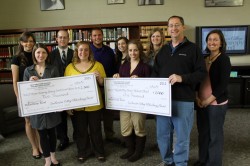 Two organizations were awarded grants in 2011. Creative Community Living was awarded funding to design and implement a workforce skills development course for residents. The curriculum will go into effect in the fall of 2011. Winfield FUMC was given funding for a summer music intern. The money provided the ability for the church to hire a student to lead a youth praise band and expand music opportunities for children in the community throughout the summer.
Community Learning Center, 2010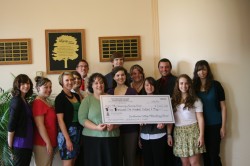 The Community Learning Center (CLC) was awarded funding to creatively engage students in planing, budgeting, and preparing meals for their fellow students. CLC staff indicated that students at the CLC are highly creative and thrive when offered hands-on learning opportunities. The CLC was grateful for the opportunity to incorporate this experiential learning activity into the school's curriculum.