Richardson Performing Arts Center
Upcoming Artists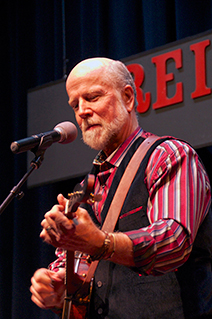 John McCutcheon - folk music's renaissance man, master instrumentalist, powerful singer-songwriter, storyteller, activist, and author
Date: February 8, 2014 (Saturday)
Time: 7:00 p.m.
Price: $22.50 (General Seating only. No reserve seats.)
Tickets: Call 1-620-229-6141 or BUY ONLINE
Artist Website
"The most impressive instrumentalist I've ever heard."
— Johnny Cash
"He has an uncanny ability to breathe new life into the familiar. His storytelling has the richness of fine literature."
— Washington Post
"Calling John McCutcheon a 'folksinger' is like saying Deion Sanders is just a football player."
— Dallas Morning News

No one remembers when the neighbors started calling the McCutcheons to complain about the loud singing from young John's bedroom. It didn't seem to do much good, though. For, after a shaky, lopsided battle between piano lessons and baseball (he was a mediocre pianist and an all-star catcher), he had "found his voice" thanks to a cheap mail-order guitar and a used book of chords.
From such inauspicious beginnings, John McCutcheon has emerged as one of our most respected and loved folksingers. As an instrumentalist, he is a master of a dozen different traditional instruments, most notably the rare and beautiful hammer dulcimer. His songwriting has been hailed by critics and singers around the globe. His thirty recordings have garnered every imaginable honor including seven Grammy nominations. He has produced over twenty albums of other artists, from traditional fiddlers to contemporary singer-songwriters to educational and documentary works. His books and instructional materials have introduced budding players to the joys of their own musicality. And his commitment to grassroots political organizations has put him on the front lines of many of the issues important to communities and workers.
Even before graduating summa cum laude from Minnesota's St. John's University, this Wisconsin native literally "headed for the hills," forgoing a college lecture hall for the classroom of the eastern Kentucky coal camps, union halls, country churches, and square dance halls. His apprenticeship to many of the legendary figures of Appalachian music imbedded a love of not only home-made music, but a sense of community and rootedness. The result is music...whether traditional or from his huge catalog of original songs...with the profound mark of place, family, and strength. It also created a storytelling style that has been compared to Will Rogers and Garrison Keillor.
The Washington Post described John as folk music's "Rustic Renaissance Man," a moniker flawed only by its understatement. "Calling John McCutcheon a 'folksinger' is like saying Deion Sanders is just a football player..." (Dallas Morning News). Besides his usual circuit of major concert halls and theaters, John is equally at home in an elementary school auditorium, a festival stage or at a farm rally. He is a whirlwind of energy packing five lifetimes into one. In the past few years alone he has headlined over a dozen different festivals in North America (including repeated performances at the National Storytelling Festival), recorded an original composition for Virginia Public Television involving over 500 musicians, toured Australia for the sixth time, toured Chile in support of a women's health initiative, appeared in a Woody Guthrie tribute concert in New York City, gave a featured concert at the Smithsonian Folklife Festival, taught performance art skills at a North Carolina college, given symphony pops concerts across America, served as President of the fastest-growing Local in the Musicians Union and performed a special concert at the National Baseball Hall of Fame. This is all in his "spare time." His "real job," he's quick to point out, is father to two grown sons.
But it is in live performance that John feels most at home. It is what has brought his music into the lives and homes of one of the broadest audiences any folk musician has ever enjoyed. People of every generation and background seem to feel at home in a concert hall when John McCutcheon takes the stage, with what critics describe as "little feats of magic," "breathtaking in their ease and grace...," and "like a conversation with an illuminating old friend."
Whether in print, on record, or on stage, few people communicate with the versatility, charm, wit or pure talent of John McCutcheon.
---
Previous Artists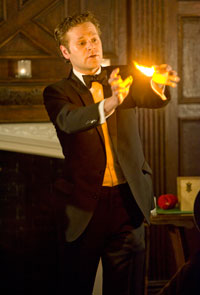 Dennis Watkins - Magician
Date: November 1, 2012
Time: 7:30 p.m.
Price: $10 adults, $5 non-SC students, Free for SC students, staff and faculty with I.D.
Tickets: Call 1-620-229-6141
Artist Website
With awards and honors from the Texas Association of Magicians, the Society of American Magicians, the International Brotherhood of Magicians and the Desert Magic Seminar, Dennis Watkins bring the highest standard of live entertainment to events nation wide.
A classically trained actor (degrees in performance from SMU and the British American Drama Academy in London), his shows have wowed audiences in virtually every type of venue including The Tropicana Hotel and Casino in Las Vegas, Chicago's United Center, Chicago's Navy Pier, dozens of Colleges and Universities, and countless private venues across the country.
Now a Chicago Magician, he brings his world-class magic to corporate events, colleges, and upscale private parties all over the United States!
---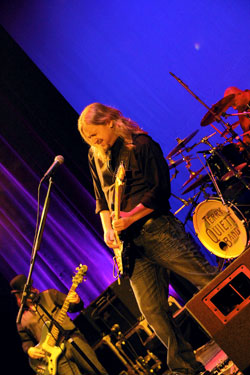 Terry Quiett Band - Blues/Rock Band
Date: September 28, 2012
Time: 7:30 p.m.
Price: $10 Adults, $5 with SC ID, $3 Children under 1
Artist Website
Since 2006 the Terry Quiett Band has logged 200,000+ miles and played over three-hundred shows across America's Heartland. From 6th Street in Austin to Beale Street in Memphis, they've mesmerized audiences with their original and contemporary blues-soaked sound. They've also paid their share of dues (and tolls) traveling the Rocky Mountains of Denver, the blue grass of Kentucky, and every state in between, winning fans and expanding their core grassroots audience with each performance.
Their self-produced 2008 CD titled "Cut the Rope" sold out and helped spread TQB's inventive blues-rock to over 300 radio stations worldwide (including tracks spun on syndicated blues shows such as: Bluesville XM, Blues Deluxe and House of Blues Blues-mobile, and being ranked on the Top 20 radio chart in Maine for three consecutive months).
But it was their 2011 album "Just My Luck" recorded with world renowned, Grammy-winning producer Jim Gaines (Stevie Ray Vaughan, Carlos Santana, Steve Miller Band, George Thorogood, Luther Allison, Albert Collins) that really raised the stakes and their profile to another level. It received glowing reviews across the globe and was in the Top 100 most played albums of 2011 on the Root Music Report Blues Chart.
Along the way the Terry Quiett Band has shared the stage with international guitar legends including B.B. King, Buddy Guy, Jonny Lang, Robert Cray, Los Lonely Boys, 38 Special, the Doobie Brothers, Edgar Winter, Kenny Wayne Shepherd, Walter Trout, Robin Trower, Tab Benoit, Eric Sardinas, Albert Cummings, Robert Randolph and the Family Band, Bernard Allison, Bugs Henderson, Gary Hoey, and Anthony Gomes as well as numerous talented regional artists.
---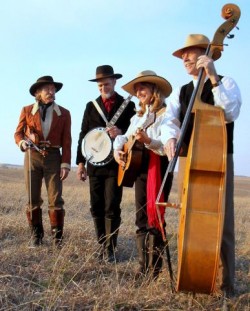 Tallgrass Express String Band
Date: September 21, 2012
Time: 7:00 p.m.
Price: FREE
Artist Website
A special donation was made to the Kansas Native Plants Society to bring the Tallgrass Express String Band to play a concert at the Richardson Performing Arts Center. The Arts Center is located in the Christy Administration Building located off of King Drive. The concert is open to the public with no cost for admission. They perform original songs that are inspired by the prairie. This concert will feature songs about Flint Hills plants and animals like "Big Bluestem: King of the Prairie" and "Wildflower Reunion." The four-member string band sings and plays a variety of instruments including fiddle, banjo, mandolin, guitar, upright bass, dobro, harmonica, and concertina. This FREE concert is part of the 2012 Annual Wildflower Weekend.
Tallgrass Express String Band: http://tallgrassexpress.com
Kansas Native Plants Society: http://www.kansasnativeplantsociety.org