Upcoming Artists
2016-2017 Artists/Events
Stars Go Dim Concert | A Donna DeMint Memorial Benefit
Date: June 3, 2017 (Saturday)
Time: 7:00 p.m.
Admission: $15 (FREE to Amp It Up campers)
CONCERT CANCELED
A member of Stars Go Dim has experienced a medical emergency and the band has had to cancel their show for Saturday evening at Southwestern. Refunds will be made to those who have purchased tickets. We look forward to hosting Stars Go Dim on campus in the future -- for now, we are prayerful for a speedy recovery.
Please continue to support the local effort to support Relay for Life in memory of Donna DeMint and the American Cancer Society.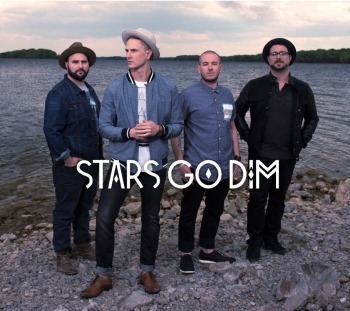 The guys in the band Stars Go Dim are determined to use their musical gifts for one passionate purpose: letting people know about God's relentless love for them. Their song, " You Are Loved," from the album Stars Go Dim (2015) delivers that message like a clarion call.
As Chris Cleveland (lead singer) explains it "We are all part of a love story. One of God's love for his people and His love for each one of us. Thinking about society and the world today we are divided on so many things. Politics. Race. Religion. We have opinions on everything and everyone. We are told who to be, what to think, how to feel, even what our bodies should look like. This is not the plan that God had for this world. He loved us so much that He sent His son to live, die and physically rise and walk out of a grave. And He gives us that same promise, so that we can join this love story that God has been telling since the beginning. This all starts with knowing just how much our heavenly Father loves us."
Chris helped found Stars Go Dim in 2007 with Joey Avalos, Lester Estelle II and Michael Wittig and is the one remaining original band member. However, the vision of the band carries on and Chris is now joined by his brother, Michael Cleveland (guitar), Josh Roach (aka Black Panda - drums) and Kyle Williams (guitar).
Learn more at the Stars Go Dim website.
This concert is also part of the Amp It Up! Worship Band Camp at Southwestern College.
---
Thomas Burritt - Percussion Concert
Date: June 15, 2017 (Thursday)
Time: 7:30 p.m.
Admission: $10 (FREE to Summer Music Festival campers)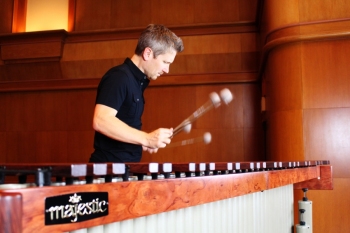 There are storied educators, and there are dynamic performers, and then there are those who are destined to be both. Always in search of new music and new ways to share it with others, Thomas Burritt is today's percussionist. He has received degrees from Ithaca College School of Music (BM – Education and Performance), Kent State University (MM), and Northwestern University (DMA). Active in the creation and performance of new music for percussion Burritt has built a reputation in chamber music, as a percussion soloist and a concert marimbist. He has performed regularly at the Leigh Howard Stevens International Marimba Seminar and was a featured faculty performer at the 2007 and 2009 Zeltsman Marimba Festival. In April 2004 Burritt performed in Weill Recital Hall at Carnegie Hall as member of the Hammers and Sticks Ensemble. Later the same year the Hammers and Sticks Ensemble released a CD on the Innova label featuring works by Steven Mackey, Zhou Long, Alvin Singleton, Alex Shapiro, Joseph Harchanko and Belinda Reynolds.

As Percussion Soloist Burritt has been active performing percussion concertos by Maki Ishii, Steve Mackey, Joseph Schwantner, Michael Dougherty, David Maslanka, John Mackey, and James MacMillan. Burritt has recorded for guitarist Eric Johnson and recording artist David Byrne. Burritt's first solo CD recording: "All Times Identical - New American Music for Marimba" was released in November 2006. His 2nd solo marimba recording "Groundlines" is available in iTunes, Amazon, Google Play, Rdio and Spotify. In August of 2015, Burritt released his latest recording via YouTube, featuring a video album of J. S. Bach's 5th Cello Suite performed on the Marimba. In 2009 and 2016, Burritt performed on two Grammy nominated recordings: "Conspirare in Concert" and "Pablo Neruda: The Poet Sings", both distributed world wide on the harmonia mundi label. In the spring of 2012, Burritt was cited as being one of "The most influential Music Professors on Twitter". Follow @tburritt

He is currently Professor of Percussion and Director of Percussion Studies at the University of Texas at Austin and is a clinician/endorser for Majestic Percussion, Innovative Percussion, Zildjian, Remo, Beetle Percussion and Grover Pro Percussion.For more information visit http://www.thomasburritt.com.
This concert is also part of the Cole Family Summer Music Festival.
---