Information Technology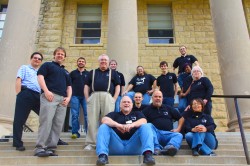 The Information Technology team manages the technological needs for all users of Southwestern College. We are responsible for strategic planning, oversight and direction for SC's infrastructure, resources, systems and services. We aim to provide the best possible support to all our learners, faculty, staff and guests.
End-User Support (Anthony Gropper - Manager)
The end-user support team provides support for all users, taking the initial walk-up, calls and emails through our help-desk. We provide support for end-point devices, such as laptops, desktops, printers and other accessories. In addition, we also provide equipment check-outs and additional technical services. Please ask if you have a question and we will help you get in touch with the proper people that can help you with your technological needs.

Hours: Monday to Friday 8:00am to 5:00pm Central Time
Location: Christy - 2nd Floor
Phone #: 620-229-6444
Email: sc.helpdesk@sckans.edu
Additionally, we also manage all support calls to other groups within IT, providing status on issues that had been forwarded to other groups for resolution. Basically, this is the primary point of contact regarding any Information Technology issues and/or follow-ups.
Infrastructure (Scott Ireland - Director)
The Infrastructure team is responsible for installing and maintaining our infrastructure systems, including but not limited to networking, wireless, email, backups, bandwidth management, telecommunications, user network accounts, projectors, sound systems, audio/visual and anything else that forms the basis of data and information transport.
Systems and Analysis
This group consists of 4 individuals that provides in-depth support for the systems needs of SC, such as Blackboard, Self-Service, PowerCampus, OneCard, GP Dynamics, Reporting and other "back-end" systems. We try to provide help all the way from consultation, evaluation, project management through implementation and arranging for end-user training.
NOTE: Weekly system maintenance down time is scheduled for 3am to 7am on Wednesday mornings.
Copy and Mail Center (Zach Noland - Manager)
This group provides all mail support for Southwestern College, including but not limited to USPS and FedEX, as well as providing a high level printing and copying capabilities. There is a detailed list of services available upon request.
Hours: Monday to Friday 8:00am to 5:00pm Central Time
Location: Roy L. Smith Student Center - Basement
Phone #: 620-229-6261
Email: copy.mail@sckans.edu
The Buck Stops Here
Finally, if you have any questions or issues that you think needs the highest level of attention please don't hesitate to contact me.
Ben Lim
Vice President for Information Technology
(620) 229-6388
ben.lim@sckans.edu
@builder_cio
Recent News