Bishop Scholars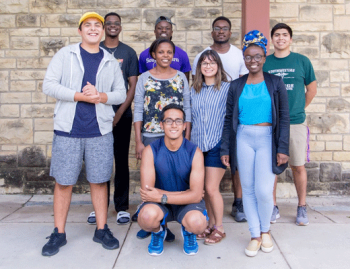 Over the years, more than 50 students with a Bishop Scholarship have graduated from Southwestern College. They have come from all parts of the globe and are making a positive difference throughout the world today. Students interested in attending Southwestern who have ties to the Methodist Church, are from outside the United States, or bring a global perspective to our campus- are involved in their local ministry, and wish to participate in a service-learning or worship outreach program are encouraged to apply.
The Bishop Scholars program is a result of the efforts of Bishop Wilke which he began shortly after he became the Bishop in Residence at Southwestern College. The program began officially in the fall of 1997 when the first Bishop Scholars enrolled on campus. Because of Bishop Wilke's global relationships with the Methodist Church, he was able to reach out and make the program known. Two areas the Institute has invested most heavily in are Lydia Patterson graduates from Mexico and Zimbabwe. The Institute actively seeks funds to assist all the Bishop Scholars, but especially those who qualify for the Lydia Patterson partnership and the Zimbabwe effort.
Bishop Scholarship
The scholarship offered by the school changes from year to year but represents one of the college's most generous scholarships. The scholarship award also makes the student available for additional funds from the Institute for Discipleship. These funds are in addition to the scholarship and are need-based.
Scholarships are awarded based on the following criteria:
• Methodist affiliation
• Financial need
• Interest in ministry
• Leadership potential
• Global perspective
• Potential impact
• Letter of Reference from church pastor or official
Bishop Scholarship Application
Connect

To connect with the Bishop Scholars that have graduated from SC, you can join the Bishop Scholars and Friends Facebook Group.
Support
If you would like to make a gift to support need-based funds for the Institute for Discipleship to assist Bishop Scholars, they are most welcome.
Send gifts to:
Institute for Discipleship - Bishop Scholarship
100 College Street
Winfield, KS 67156
To give a gift online, CLICK HERE. Be sure to make note that your gift is for the IFD-Bishop Scholars
Contact Us
For additional information, contact Steve Wilke at steve.wilke@sckans.edu