Marissa Evans
"As an improvisational actor, I experience Marissa as a performer for whom being fearless is fun. There is so much risk in improvisational acting, but Marissa's eyes sparkle and she flashes a smile every time she takes the stage!"
- Allyson Moon, Associate Professor of Theatre and Speech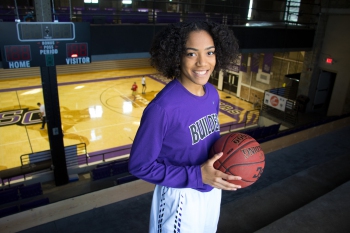 You might expect a basketball player's hero to be another basketball player. Marissa Evans's hero, though, is her middle school math teacher.
"You know how junior high school kids are in kind of an awkward stage? In eighth grade I was in a VERY awkward stage," she says now with a laugh. "My math teacher was the one who really related to me and helped me though that stage."
This ability to have an impact on the lives of others coupled with her love of numbers has led to Marissa's calling to teach middle school math – and in doing so, to help the next generation of awkward 13-year-olds. Until she's in her own classroom, though, she's finding ways to help others on the Southwestern College campus.
A sophomore guard, Marissa starts for the Lady Builder basketball team. In fact, that was all she planned to do when she arrived at SC.
"I really intended to focus only on basketball," she says, "but then someone suggested I run for StuFu executive so I became vice president for traditions."
She's also a student ambassador and a resident assistant, and though she had never acted before she was convinced to act with the Nine Lives improv troupe.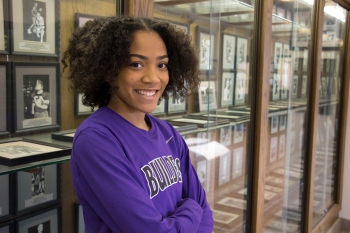 In all of these activities, her focus not only is on making sure she does her best, but also on making sure others reach their highest potential.
"I like to create for others, but I also want to do whatever it takes to win," she says. "I'm not that big (she's 5'6"), there are a lot of people on the floor who are bigger than I am, so I pressure the ball. I guess you could call me scrappy."
While there is no doubt that Marissa has a competitive spirit she also has a natural friendliness that she acknowleges is a charcteristic of the entire college as well.
"People here like each other. 'Nice' is kind of a little kid word, but people at Southwestern are nice," Marissa says. "When we have discussions in class you can hear everyone else's insights, and they're considering your input. Whether they're students or professors, people here are always trying to help others."
This caring environment is a good incubator for Marissa's future; she sees herself 10 years from now focused on helping others.
"I hope to…no, I'm GOING to have a classroom somewhere, maybe in the Kansas City or Lawrence area." Then she grins, imagining herself teaching middle school students. "And I'm going to be wearing a Southwestern College shirt."