Upcoming Events
March 25, 2021 - 11:59pm
| Online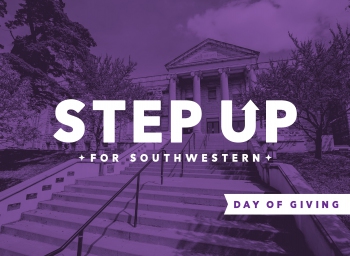 Builder Nation came together in a big way last year with Step Up for Southwestern. With a goal of $50,000, we raised over $75,000, which was matched totaling over $150,000 for the students of SC!
Recently, we launched a new $12,000,000 capital campaign-- Forward / Now. A gift to the Builder Fund during Step Up for Southwestern is a great opportunity to participate in the Forward / Now campaign. On this special day of giving, all gifts to the Builder Fund will be matched dollar-for-dollar by a group of generous donors.
On Thursday, March 25, 2021, wear your purple, make a gift, and Step Up for Southwestern!