News
June 30, 2017
(As featured in the Summer 2017 issue of The Southwesterner.)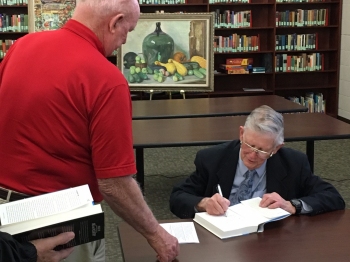 For a quarter of a century the college needed David Nichols to serve in a progression of roles. Though he considered opportunities elsewhere he was compelled to stay at SC. He taught economics, headed the business department, led institutional advancement, and finally was vice president for academic affairs and dean of the college before he retired in 2003. And still, he says, he didn't find out what he was really good at until he left SC.
(Pictured: David Nichols signs copies of his latest book about Dwight Eisenhower during an event on the Southwestern campus April 27. The book has been favorably reviewed by major national media.)
Today Nichols is a nationally-recognized author who is being called the foremost scholar on the presidency of Dwight D. Eisenhower. His latest book, Ike and McCarthy, was released in March 2017 and has been favorably reviewed by such media as the Wall Street Journal, the Washington Post, Atlantic Monthly, and the Dallas Morning News. It was called "a thrilling new history" by The Daily Beast.
"I wasn't going to play golf, and I needed something to do," Nichols explains his late-life career as an author. Trained as a historian (his doctorate from College of William and Mary was in history), he told colleagues when he retired that he planned to write a book. Few predicted how successful he would be, though.
Abilene, he explains, was close and cheap so he decided to concentrate his research on the 34th president. Overlooked by East Coast scholars because of its out-of-the-way location, Eisenhower's presidential library turned out to be a researcher's treasure trove and Nichols reveled in the information he found.
An editor at Simon and Schuster took an interest in Nichols' work, and in 2007 the respected publisher released A Matter of Justice: Eisenhower and the Beginning of the Civil Rights Revolution. This was followed in 2011 by Eisenhower 1956: The President's Year of Crisis – Suez and the Brink of War.
Critics took note of the books, with the Christian Science Monitor calling Year of Crisis one of "seven history books worth checking out in 2011."
With the publication of Ike and McCarthy, Nichols has taken his place as the nation's foremost expert on the Eisenhower presidency. National book tours, media interviews, and a second printing have followed its March 21 release.
"It's the best written of the three books by far," Nichols admits. "It's not a who-done-it, it's a how-done-it. It's like a Sherlock Holmes mystery."
At the center of the book is the fascinating general who became a president.
"Eisenhower was deceptive, almost to a fault," Nichols says. "He appeared to be a bumbling grandfather in public but behind the scenes he was profane, ruthless, tough. When he finally went to war he could be lethal. He was both ethical and ruthless, which is a strange mixture."
Now that Nichols has taken his place as a leading presidential scholar, he looks back on the careers that came before, and the Southwestern influence that occurred during his student days even before these careers began.
"During that transformative (for me) 1956-60 period, I learned that I – this untutored farm kid – could be a lifelong learner. Since then, I have lived by the maxim: 'A liberal arts education equips you to learn whatever you have to learn to do whatever you have to do,'" Nichols says. "That principle has informed my life right up to and including the new book."
"I'm a teacher at heart," he says, "but if I had only been a classroom teacher I wouldn't have understood Eisenhower."