News
June 30, 2017
(As featured in the Summer 2017 issue of The Southwesterner.)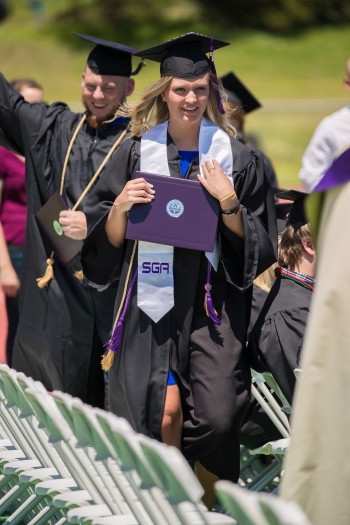 Kayla Demel admits that she came to Southwestern to play basketball, but that decision opened the door to more than she ever expected.
"I saw upperclassmen getting involved, and I thought 'I want to do that – I want to be an RA, and be involved in Builder Camp, and in student government, and in things I'm passionate about.'"
During her freshman year, Kayla admits, she was mostly focused on basketball and hanging out with friends.
"School wasn't the first thing on my mind all the time, but then I realized I was only in college for four years," she says. "I had to be ready to make decisions, and decisions you make in college are going to affect you for the rest of your life."
Seeing older students model the possibilities Southwestern offered turned into a whirlwind of activities for Demel, who graduated in May as SGA president, student ambassador, treasurer of the Athletic Training Society, and member of the Pre-Health Professionals organization. And she continued to play basketball – she was an NAIA Div. II scholar-athlete and participated in all 31 games during her senior season.
"I told (dean of students) Dan Falk in February that my main goal was to leave Southwestern better than I found it, and I think I did that," she says.
Next up for Kayla is a position with Advanced Orthopedic Associates in Wichita, where she will be working with a surgeon as a physician extender and athletic trainer.