News
June 30, 2017
(As featured in the Summer 2017 issue of The Southwesterner.)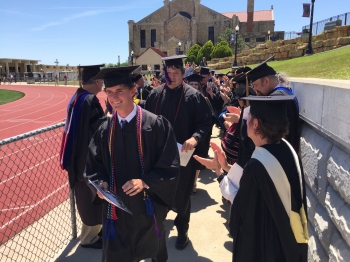 It's a rare Southwestern student who doesn't hear the same advice Aidan Goodrich heard as a new freshman: "You're going to get out of it what you put into it," someone told him.
It's a rare student, though, who takes this advice as seriously as Goodrich. He graduated from SC in May with a biology degree. But in addition to the activities expected of a biology major (Beta Beta Beta, Pi Gamma Mu) he completed internships with Legacy Regional Community Foundation, SeaWorld Orlando, and the Georgia Aquarium. He was a member of the Leadership Team and was also elected a MasterBuilder.
"I was excited – I wanted to do things, challenge myself, learn about myself," he says. "If there's anything you're passionate about, you're going to put a lot of energy into it, and one thing led to another."
When meeting with prospective students as an ambassador he shared that they were in for a special experience.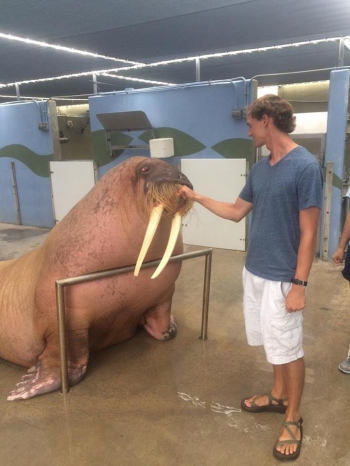 "I told them they were going to learn a lot about themselves, and other people, and the world, but they were also going to learn the spirit of service," he says. "Our college is built on four pillars – knowledge, hope, courage, and freedom—but the fifth invisible pillar is service."
Now Goodrich is working as a husbandry assistant in the animal training department of SeaWorld San Antonio, and spends his days observing killer whale calves, feeding sea otters, and caring for sea lions.
"It's exactly what I was hoping it would be, and more," he says – just like his Southwestern experience.