News
November 16, 2021
Three Southwestern College graduates were inducted into the Natural Science Hall of Fame on Saturday, Nov. 13, in Deets Library on the campus of Southwestern College.
The new members are David Brooks, Ann Arbor, Mich., Scott Carter, Detroit, Mich., and Steven Short, Manhattan.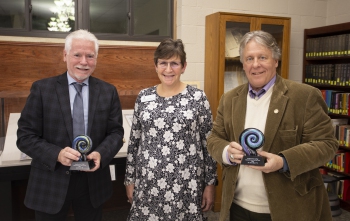 Pictured: 2021 Hall of Fame inductees Scott Carter, class of 1980 (left), Steven Short, class of 1978 (right) pose with Tammy McEwen, Associate Professor of Biology; Chair, Division of Natural Sciences following Hall of Fame induction ceremony held in Deets Library on Nov. 13. David Brooks, class of 1960, was also inducted to the hall but was unable to attend the gathering.
This hall of fame honors Southwestern College alumni who have made significant contributions in the natural sciences.
"These inductees represent the 60's, 70's, and 80's well," says Pat Wagner, vice president for institutional advancement. "Southwestern has a strong history in the natural sciences and these three new members continue that level of excellence."
2021 Inductees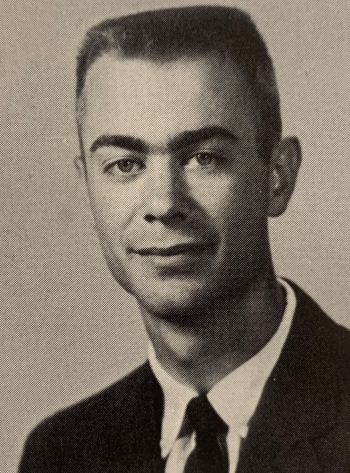 Dr. David Brooks '60 is board-certified in family practice and osteopathic manipulative medicine. He graduated from Southwestern College in 1960 with a bachelors of science in chemistry and mathematics. After a semester at the University of Kansas doing graduate studies, David was accepted into A.T. Still University of Health Sciences in Kirkville, Mo., where he completed medical school—ranking 15 out of 110 students. After completing his medical internship in 1966, Dr. Brooks entered into private practice with Dr. Charles Lyon in Ypsilanti, Mich., where they remained in partnership for 55 years. He was also on faculty at Michigan State University and on staff at Beyer Hospital in Ypsilanti for many years. Dr. Brooks and his wife, Peggy, live in Ann Arbor, Michigan where they are enjoying their retirement. They have four children, 11 grandchildren, and one great-grandson.
Scott Carter '80 is the Chief Life Sciences Officer for the Detroit Zoological Society (DZS). He is the executive leader of the mission of the DZS, including animal care, health, welfare, and conservation as well as education programs serving students of all ages in Southeast Michigan and beyond. In addition to the bachelor's degree in biology he earned at Southwestern College, he holds a master's degree in liberal studies from Wichita State University. He began his career as a zookeeper at the Sedgwick County Zoo and was formerly the mammal curator and director of conservation and animal welfare for the Detroit Zoo. He helped found the DZS's Center for Zoo and Aquarium Animal Welfare and Ethics and helps to lead the programs of science, advocacy and training that it encompasses. A career working with and for animals has many highlights, including forming relationships with amazing animals, working in the field conducting primate surveys in the Amazon, immersion and learning in wild places all over the world, being part of what became a landmark decision to no longer house elephants for ethical reasons, and advocacy for animals and wildlife at local, state, and federal levels. He is a Professional Fellow, Association of Zoos and Aquariums, and a Fellow of the Noyce Leadership Institute.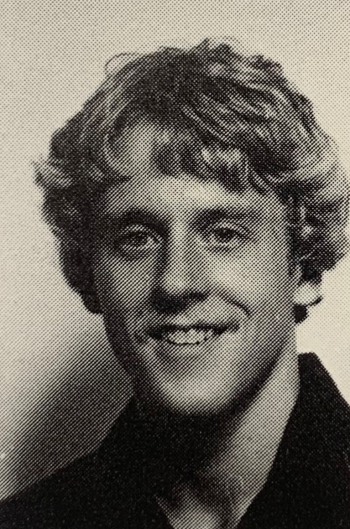 Dr. Steven Short '78 who graduated cum laude with majors in both biology and chemistry while also earning a minor in sociology. He also remained busy as a student participating in several extracurricular activities. After graduating, he attend A. T. Still University Kirksville College of Osteopathic Medicine in Kirksville, Mo. He spent his internship in Flint, Mich., and completed his residency in 1987 in Wichita at the KU Medical Center. He then completed mission work in Bolivia. He served the Indian Health Services in Tahlequah, Okla., until 1991. He also served a pulmonary research fellowship with the Center for Disease Control from 1991 to 1995. Since then, he has served as board-certified pulmonologist with expertise in critical care and internal medicine. Dr. Short continues his private practice in Manhattan as a pulmonologist with a special emphasis in critical care and sleep medicine. Additionally, his office serves multiple other clinics in North Central and Western Kansas. He has also served a confirmation teacher his church for the last 20 years.