News
March 09, 2022
The annual Step Up for Southwestern Day of Giving will be held on Thursday, March 24.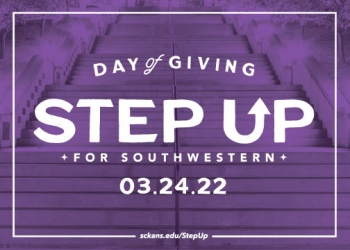 "The last two years have proven that the Builder Family will Step Up for SC," says Pat Wagner, vice president for institutional advancement. "We are excited to announce that, again this year, every gift to the Builder Fund on March 24 will be matched. An anonymous group of donors have stepped up to make each gift count twice as much."
Last year the college had a goal of raising $75,000 and was pleasantly surprised to have raised $100,000 which turned into $200,000 thanks to a matching grant. This year the college hopes to eclipse that mark.
The funds raised through Step Up for SC support each and every student on campus by helping to provide the quality education Builders have come to expect.