News
October 06, 2022
Liz Frombgen, president of Southwestern College, has announced Ashlee Mayo as the new director of alumni engagement. Mayo, who started work at Southwestern in 2017 as the coordinator of new media/assistant designer, officially transitioned into her new role on Oct. 3. As part of the reorganized position, Mayo will retain responsibility for the institution's social media pages.
­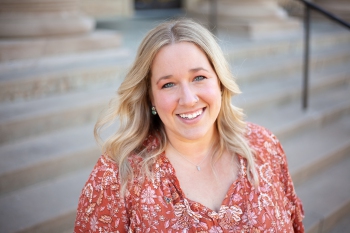 "The college has an opportunity and obligation to strengthen and build relationships with alumni and friends of the college – Ashlee is excellently suited to engage alumni through meaningful events and proactive communication," said Frombgen. "While Ashlee is a graduate of K-State, she is proudly a Winfield native and she has come to have a deep love for Southwestern College during her time working for the college; she bleeds purple and belongs to the Builder Family."

Mayo will support the 2022 Homecoming which will take place at Southwestern Oct. 14-16. Details for all of the festivities including the parade, tailgate, football game, 20th Anniversary 9-Lives performance, and alumni meet-ups may be found at www.sckans.edu/homecoming.

"In a couple of weeks we will celebrate the connection that we share in this college, our home on the hill," said Mayo. "There will be a lot of fun moments packed into the weekend that are focused on creating space for alumni to remember and re-connect – sharing in their love for Southwestern and for the Builder Family."

Beyond a successful Homecoming and alumni events, Mayo plans to create an advisory group of alumni, focused on uniting a global network of Builders and advancing the mission of Southwestern College.
"The alumni of Southwestern are a passionate and talented group," said Mayo. "My goal is to help alumni find new ways to plug into Southwestern. I know doing so will enrich their lives and strengthen the college."

The college hosts annual events on campus for alumni of the college including Homecoming (Oct. 14-16), Athletic Hall of Fame (Oct. 15), Natural Science Hall of Fame (Nov. 12), WinterFest (Dec. 4), and Founders Weekend (April 21-22). Mayo is also looking forward to planning both local and regional alumni meet-up events as well as online gatherings throughout the year.
"I'm looking forward to getting creative to reenergize our alumni base. Southwestern truly is a magical place that is made more magical by the love and support of engaged alumni, donors, and community," said Mayo. "I am excited to support that connection, creating mutual benefit for alumni, and our beautiful little college on the hill."
The office of institutional advancement and alumni services is also working to update the alumni database, alumni and individuals who are affiliated with Southwestern, are invited to take a moment to update alumni information at www.sckans.edu/whatsnew. For questions or to connect, email Ashlee.Mayo@sckans.edu or call (620) 229-6155.