Supplies and Products
This page offers information and links that will help your church choose more environmentally sustainable supplies and products.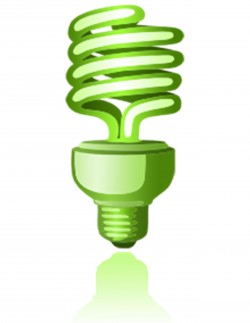 GoGreen Tip:
Compact Fluorescent light (CFL) bulbs last ten times longer than incandescent bulbs and cost about 75% less to operate.
Classroom
Kitchen
Food Service
Avoid using disposable products when possible, but when it is unavoidable, choose responsible products.
http://www.ecoproducts.com/food_services/food_services_index.htm

Appliances
GoGreen Tip:
Maintain an air gap of at least 3 inches between appliances (refrigerators, watercoolers, and freezers) and the wall.
When feasible think about updating old appliances with newer Energy Star units. To learn more about Energy Star appliances visit: http://www.energystar.gov/index.cfm?c=appliances.pr_appliances
Office:
Supplies
http://madebyhumans.com/product_colours.php?PId=212&srch=stapler&pg
Printing
http://greenprint.com/

Energy Saving Power Strip
http://www.vendingmiserstore.com/c924/energy_saving_products.php
Miscellaneous
Use rechargable batteries when possible-- they live longer, of course, but they also can be recycled. It is important be cautious about the disposal of batteries, check with your local solid waste management district for household battery recycling.
http://www.ehso.com/ehshome/batteries.php
Custodial

Cleaning
http://www.ecoproducts.com/household_supplies/household_supplies_index.htm
http://www.greenworkscleaners.com