News
December 05, 2019
Southwestern College sophomore Jennifer Ann Warren has been selected to participate in the Miss Kansas USA 2020 Pageant. The pageant will take place Jan. 18-19 at The Lied Center at the University of Kansas in Lawrence. She will be competing as Miss Winfield Jinx 2020, and will compete in swimsuit, evening gown, and personal interview.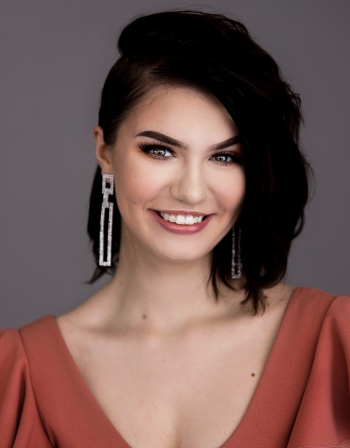 Warren, a Winfield High School graduate, is a music theatre major at Southwestern. She chose her title to represent both her community and her college.
"Once accepted as an official contestant, each young woman gets to choose her own official title," Warren says. "This title will be her identification to the judges, audience, and other contestants at the state pageant. I chose Winfield Jinx because I wanted to represent both my community and school.
For the past six years, Winfield has been my home. I have made friendships and connections here that will last a lifetime. I chose to add the Jinx to also be able to represent the school that has given me some of the most incredible opportunities of my life. As a Moundbuilder Scholarship recipient, I know what a great gift it is to be able to attend school here. SC has given me an incredible gift I will never be able to repay."
Some of her preparation for the pageant has included finding local businesses in Winfield to sponsor her, working on her diet and fitness, improving her organizational and speaking skills and much more.
"I am so thankful for my sponsors, family, friends, professors, and community for helping send me to the Miss Kansas stage," Warren says. "I hope to make everyone very proud."
For the pageant, Warren is sponsored by Chelsea Taylor Photography, The Winfield Soroptomist Club, The Winfield Lions Club, and Willie Tuttle at Farm Bureau Financial Services. Other generous donors and supporters include Gary Brewer, Talaia White at The Last Tangle, and Roxanne Taylor, Ruth Parman, and Lydia Farley from Winfield Soroptomist.
The pageant has two age divisions, and the winners will represent the state of Kansas in the 2020 Miss USA and Miss Teen USA Pageant. Miss USA goes on to compete in the Miss Universe Pageant. The Miss USA Pageant system stresses good morals, physical fitness, communication skills, social awareness, and community involvement.