News
May 04, 2021
Southwestern College Philanthropy Board (SCPB) offered a grant of $1,000 to a 501(c)(3) non-profit organization seeking to enhance the lives of youth in Cowley County. After much consideration from the Non-Profit Leadership class and approval from the SCPB, the Winfield Arts and Humanities Council was selected to receive the grant.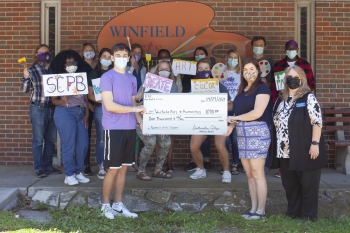 The Southwestern College Non-Profit Leadership class developed the RFP that five non-profit organizations utilized the opportunity to apply for the grant.
"As a class we felt they had a well-written plan and would create a positive impact on Cowley County's youth," said Meganne Nihart, a member of the Non-Profit Leadership class. "The Winfield Arts and Humanities Council will put the money towards the arts program they host each summer for the youth."
Nihart added that they wanted to thank Angels in the Attic, Eastern Cowley County Resource Center, Cowley County Humane Society, and Kansas Big Brother Big Sister for applying, as well as Legacy Regional Community Foundation for managing the funds for the SCPB.