Job Board
Retail Wireless Sales Consultant (Full-Time)
Company Name: U.S. Cellular
Company Address:
1221 Main St.
Winfield, KS 67156
Job Description:
Our Retail Wireless Sales Consultants sell wireless technology, of course. But their real sense of fulfillment is in consulting out of their passion for technology and their desire to make others' lives just a bit easier. It's the kind of approach we're known for, not only because our customers become full-on U.S. Cellular fans, but because we make it worth every bit of our associates' efforts …
Earn an average of $45,000 to $51,000 in hourly pay and commissions when meeting or exceeding sales targets

Competitive benefits, including medical, dental, 401K, pension, and lots more, with certain benefits available from day one
We also offer ongoing training that provides the latest insights on the newest tech advancements so you're prepared for the unique challenges and expectations our customers have for connected home and wireless communications. And best of all, there are opportunities to grow professionally. We offer a promote-from-within environment where upward movement is not only possible, but likely. It's all about your commitment!
Here's What We Require:
Strong written and interpersonal communication skills

1 or more years of experience working directly with customers

1 or more years of wireless or tech industry experience
How to Apply:
Apply online at https://www.uscellular.jobs/
---
Multiple Seasonal Jobs
Company Name: City of Winfield
Company Address:
200 E Ninth ave
Winfield, KS 67156
Job Description: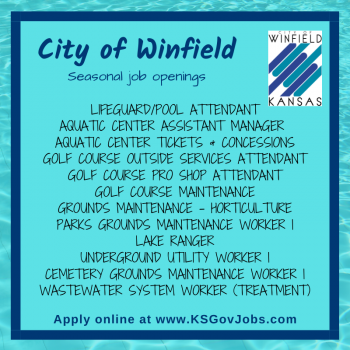 How to Apply:
Apply at www.ksgovjobs.com
---
Youth Ministries Coordinator
Multimedia Director
Praise Team Director
Company Name: First United Methodist Church
Company Address:
4500 Linden Drive
Kearney, NE 68847
Job Description:
Download job descriptions below:
How to Apply:
Send a resume to aland@kearneyfirstumc.org or call Rev. Alan Davis at 308-237-3158
---
Music Teacher
Company Name: USD 349
Company Address:
318 E. Broadway
Stafford, KS, 67578
Job Description:
**$1,000 SIGNING BONUS**

USD 349 will consider either a music teacher or art teacher potentially for elementary school, middle and high school classes. Coaching opportunities are available.
General Objectives of a Stafford USD 349 Teacher
To plan, organize and implement an appropriate instructional program in a learning environment that guides and encourages students to develop and fulfill their academic potential.
Main Job Tasks and Responsibilities
plan, prepare and deliver instructional activities that facilitate active learning experiences
establish and communicate clear objectives for all learning activities
prepare classroom for class activities
provide a variety of learning materials and resources for use in educational activities
identify and select different instructional resources and methods to meet students` varying needs
instruct and monitor students in the use of learning materials and equipment
use relevant technology to support instruction
observe and evaluate student`s performance and development
assign and grade class work, homework, tests and assignments
provide appropriate feedback on work
encourage and monitor the progress of individual students
maintain accurate and complete records of students` progress and development
manage student behavior in the classroom by establishing and enforcing rules and procedures
maintain discipline in accordance with the rules and disciplinary systems of the school
participate in extracurricular activities such as social activities, sporting activities, clubs and student organizations
participate in department and school meetings, parent meetings
communicate necessary information regularly to students, colleagues and parents regarding student progress and student needs
keep updated with developments in subject area, teaching resources and methods and make relevant changes to instructional plans and activities
complete additional activities/request as deemed necessary by administrators
Requirements:
Transition to Teaching or
The minimum of a Bachelor`s Degree from an accredited college or university.
Hold the appropriate endorsement/s
A valid Kansas Teaching Certification
Qualified applicants should complete and submit the following information:
Letter of interest
Resume
Certified application - can be found online @ http://www.stafford349.com/employment
Copy of your current teaching license
Additional items to submit:
Copies of your transcripts
Letters of recommendation

Health Insurance Commensurate with education and experience.
Job Start Date: January-6-2020
Applications Due By: May-31-2020
How to Apply:
Contact Superintendent, Traci Becker at 620-234-5243, email her at tbecker@stafford349.com or Katie Minks at kminks@stafford349.com or go to jobs.kansasteachingjobs.com and search for Music Teacher
---
Accounts Receivable Specialist
Company Name: Cowley College
Company Address:
125 S. 2nd
Arkansas City, KS, 67005
Job Description:
The Accounts Receivable Specialist is responsible for processing financial transactions and maintaining accurate records for all student accounts and fiscal receivables.
Essential Functions:
Insure student billing and fiscal money collected are accurately recorded and posted to the appropriate accounts.
Insure all money collected is deposited in the bank in a timely manner.
Insure all charges and credits on student accounts are accurate.
Calculate and enter adjustments to student accounts, as necessary.
Post charges and credits for books, tools, library fines, dorm fines, etc., as needed.
Verify and receipt all information pertaining to scholarship awards requiring adjustment.
Verify and receipt all Federal grant money to student accounts.
Maintain complete and accurate student housing contracts and files.
Prepare student housing billing and reports.
Maintain and insure the security of cash funds used for daily office operations.
Handle all related communications with third-party payers and students.
Enter service charges, prepare and mail notification letters, process related payments or write-offs, and maintain records of all insufficient fund checks and collection accounts in accordance with College guidelines.
Maintain records and insure computer hold flags are accurate for outstanding student accounts.
Provide information and reports to students and internal customers for outstanding accounts.
Coordinate the collection of past due accounts.
Assist with 1098-T preparation and reporting.
Perform receptionist, clerical and filing duties as required for the daily office activities.
Maintain courteous, professional and effective working relationships with employees, vendors and/or any other representatives of external organization.
Comply with all College policies and procedures
Other duties as assigned.
Required Knowledge and Skills:
Working knowledge of Excel and
Ability to type at least 40-60 words per minute.
Ability to work independently, as well as on a team.
Ability to work and maintain the highest level of confidentiality.
Good communications skills, both written and oral.
Ability to organize and prioritize work. Work well under deadline pressures.
Excellent human relations skills. Ability to work with individuals from a variety of backgrounds.
Understanding of and commitment to AQIP.
Required Education Background:
Associate Degree in Business Management, Accounting, or related field.
Required Experience:
At least one year practical experience in bookkeeping.
At least one year experience in a position handling cash.
Physical Requirements:
Ability to sit or stand for extended periods of time; ability to move freely around the campus and outreach centers; ability to lift up to 20 pounds; ability to bend, stoop, reach and grasp as required to perform responsibilities; ability to drive motor vehicle; and ability to work on the computer for long periods of time.
Work Environment:
Work performed in an office environment.
Cowley College is an Equal Employment Opportunity employer. Cowley College is dedicated to providing equal opportunities to all individuals regardless of race, color, religion, ethnic or national origin, gender, age, disability, sexual orientation, veteran's status, or any other factor that is a prohibited consideration under applicable law.
I acknowledge and understand that:
Receipt of the job description does not imply nor create a promise of employment, nor an employment contract of any kind, and that my employment is at-will.
The job description provides a general summary of the position in which I am employed, that the contents of this job description are job requirements and, at this time, I know of no limitations which would prevent me from performing these functions with or without accommodation. I further understand that it is my responsibility to inform my supervisor at any time that I am unable to perform these functions.
Job duties, tasks, work hours and work requirements may be changed at any time.
Acceptable job performance includes completion of the job responsibilities as well as compliance with the policies, procedures, rules and regulations of the College.
I have read and understand this job description.
How to Apply:
Visit https://www.paycomonline.net/v4/ats/web.php/jobs/ViewJobDetails?job=14701&clientkey=D735C44B01F6404D0C91B262228D396A to see more information, view the entire position description, and apply.
---
Community Volunteer Ambassador - Fort Larned National Historic Site
Company Name: Stewards Individual Placements Program
Company Address:
701 Camino Del Rio, Suite 101
Durango, CO 81301
Job Description:
$440/week living allowance
$6,095 AmeriCorps Education Award
Health insurance
Sponsored Travel to National Training Conference
Professional Development Opportunities

Since 2014, Community Volunteer Ambassadors (CVAs) have represented one of sixty National Park sites in paid, 50-week AmeriCorps placements that run from February to January of the proceeding year. They do inclusive community outreach, train a variety of volunteers, and develop meaningful service projects. CVAs are integral to establishing connections between communities and parks sites. As a Community Volunteer Ambassador, your efforts will directly shape the next generation of environmental stewards. Join our program and embark on leaving your legacy.

About the Park Site
A complete and authentic 1860s army post, Fort Larned National Historic Site on the Santa Fe Trail tells of
the Indian Wars era and has sandstone structures. Fort Larned was established in 1859 on the vast prairie
in western Kansas near the midpoint of the Santa Fe Trail. As the major route of trade between Missouri
and Santa Fe, there was an almost constant succession of freight caravans along the Trail. Troops
stationed at Fort Larned and several other military posts along the Trail protected mail coaches,
freighters, and other Trail traffic. As the site of an Indian Agency, Fort Larned also was instrumental in
maintaining friendly relations with Plains Indians by distributing annuities promised to them by treaties.
About the Position
The CVA will be responsible for the following:
1) Serve as the frontline volunteer coordinator for the park's living history program, specifically seeking to
increase the diversity of the volunteers to reflect the increased diversity of stories told in the park's new
museum exhibits, scheduled to be installed in the fall of 2019.
2) Help management plan for the incorporation of volunteer participation in dedication of the new exhibits,
scheduled for April of 2020.
3) Participate in jobs associated with the interpretive division by working the Visitor Center information
desk, and participating in living history activities.

Basic Skills
• Ability to confidently and effectively inform, instruct, and direct large audiences
• Ability to provide engaging, organized, and concise presentations
• Ability to produce accurate and professionally-toned written communications
• Ability to carry out the various aspects of event planning (recruitment, set-up, promotion, logistics,
coordination)
• Ability employ tools and strategies to carryout multiple related tasks with a high level of
organization and self-guidance (i.e. MS Office, Photoshop, Facebook, To-doist, etc)
• Ability to take guidance and feedback and use it to enhance one's performance
• Graphic Design skills are a plus!

Relevant Experience
• Education - Formal, informal instructional role; (i.e. Camp counselor, Teacher's aid, Coach)
• Event/ Product Promotion, Sales, Social media Marketing
• Community organizing/ Community Event planning
• Leading Teams (i.e. Conservation Crews, Sports, Volunteers, Student Project)
How to Apply:
Visit https://www.cvainternships.org/cva-internship-opportunities to see more information, view the entire position description, and apply.
---
Administrative Intern - Physical Security, Full-Time
Company Name: Ball Aerospace
Company Address:
10 Longs Peak Drv.
Broomfield, CO, 80021
Job Description:
The Ball Aerospace Internship Program is a 10-week summer program that provides interns with practical experience working on relevant projects while working with designated mentors; access to state-of-the-art equipment; a competitive wage; relocation reimbursement; in-house training; group activities; possible future employment and the ability to participate in the Ball Aerospace Remote Sensing Team (BIRST) program to build and launch a rocket or high-altitude balloon. At the conclusion of your internship, you will be required to prepare and deliver a formal presentation of your project work to your respective department.

What You'll Do:

Assist Ball Aerospace's Physical Security leadership and staff in managing the tactical and strategic activities related to facility and badge access, perimeter monitoring, security training and education and visitor registration for a 24/7 operation across multiple company locations in multiple local law enforcement jurisdictions.
Support Ball Aerospace's security programs to ensure compliance with applicable laws, statutes and regulations. This includes interfacing with external parties as well as internal colleagues to ensure company directives and policies are adhered to.
Prepare security reports, participate in security incident investigations and help to maintain customer audit readiness.
This position is not related to cyber security or information security. It is focused on physical security.
Maintain a regular and predictable work schedule.
Establish and maintain effective working relationships within the department, the Strategic Business Units, Strategic Support Units and the Company. Interact appropriately with others in order to maintain a positive and productive work environment.
Perform other duties as necessary.

What You'll Need:

Must have completed your sophomore year and be enrolled in a degree program for the fall of 2020. We will also accept graduating seniors enrolled in a post graduate program.
Degree must be from a university, college, or school which is accredited by an agency recognized by the US Secretary of Education, US Department of Education.
Each higher-level related degree, i.e., Associate's, Bachelor's or Master's, may substitute for two years of related experience. Degree must be from a university, college, or school which is accredited by an agency recognized by the US Secretary of Education, US Department of Education.
Reliable transportation.
Basic proficiency in MS Office.
Strong verbal and written communication skills.
Interest in learning.
Critical thinking skills.
Innovative and collaborative mindset.
Comfortable working with teams.

Working Conditions:

Work is performed in an office, laboratory, production floor, or clean room, outdoors or remote research environment.
May occasionally work in production work centers where use of protective equipment and gear is required.
May access other facilities in various weather conditions.
Travel and local commute between Ball campuses and other possible non-Ball locations may be required.

Relocation:
Relocation for this position is Available


EEO Statement:
US CITIZENSHIP MAY BE REQUIRED


Ball Aerospace is an Equal Opportunity/Affirmative Action Employer. All qualified applicants will receive consideration for employment without regard to race, color, religion, sex, pregnancy, sexual orientation, gender identity, national origin, age, protected veteran status, or disability status.
How to Apply:
https://careers.ball.com/psc/HCMPCG91/EMPLOYEE/HRMS/c/HRS_HRAM.HRS_CE.GBL?Page=HRS_CE_JOB_DTL&Action=A&JobOpeningId=668922&SiteId=1&PostingSeq=1
---
Universal Banker II (Teller & New Accounts), Full-Time
Company Name: Bank of the West - Winfield Branch
Company Address:
1113 Main St.,
Winfield, KS, 67156
Job Description:
At Bank of the West, our people are having a positive impact on the world. We're investing where we feel we can make the most impact, like advancing diversity and women entrepreneurship programs, financing for more small businesses, and promoting programs for sustainable energy. From our locations across the U.S., Bank of the West is taking action to help protect the planet, improve people's lives, and strengthen communities. We are part of BNP Paribas, a global leader supporting the UN Sustainable Development Goals (SDGs). Yes, we're a bank, but as the bank for a changing world, we are continually seeking to improve the ways we help our customers, while contributing to more sustainable and equitable growth.

Job Description Summary

Provides high quality customer service by meeting the needs of customers in an efficient and friendly manner while both servicing transactions and handling needs assessment and new account opening.

Essential Job Functions
Acts as the customers' first point of contact with the Bank, by serving the customers' total financial service needs by recognizing and uncovering opportunities and contributing directly to the success of the branch. (The time spent performing sales service or customer transactions will be determined by the needs of the branch).

Responsible for a broad range of moderate to complex activities in the branch including transaction processing, new account sales, customer servicing and referral generation.

Establishes, maintains, and deepens relationships with banking center customers to achieve branch performance goals and provide excellent customer service.

Adapts to the needs of the branch and focus on any promotional activities and enhancing the customer experience

Assists the branch management with day-to-day transactions (including but not limited to approving transactions, preparing reports, etc.)

Performs other duties as assigned
Required Experience
Requires basic job knowledge of systems and procedures obtained through prior work experience or education.

Requires 3 years minimum experience.

May require vocational or technical education in addition to prior work experience.

Education
High School Diploma or GED Required

Work Experience
S2 - 3 yrs personal banking or teller experience.

Skills
Excellent knowledge of bank deposits, lending products, credit products, and services to open accounts or refer customer to specialists partner.

Excellent customer service skills that include good verbal and written communication.

Relationship building, collaboration and teamwork.

Problem Solving skills.

MMCRM, Touchpoint Teller and Systems Training and new account opening.

Equal Employment Opportunity Policy

Bank of the West is an Equal Opportunity employer and proud to provide equal employment opportunity to all job seekers without regard to any status protected by applicable law. Bank of the West is also an Affirmative Action employer - Minority / Female / Disabled / Veteran.

Bank of the West will consider for employment qualified applicants with criminal histories pursuant to the San Francisco Fair Chance Ordinance subject to the requirements of all state and federal laws and regulations.
How to Apply:
https://botw.taleo.net/careersection/external/jobdetail.ftl?job=636487&src=JB-10063
---
Youth and Church Communication Director
Company Name: Pratt Presbyterian Church
Company Address:
202 E. First St.,
Pratt, KS, 67124
Job Description:
Pratt Presbyterian Church of Pratt, Kansas is seeking a full time Youth/Communication Director. This position consists of 80% youth/children ministry and 20% congregational communications. The Youth Director will guide all aspects of our current and future youth and children's ministries. As the Communication Director, this position will be responsible for the congregation's communication needs through social media, worship technology, and office management.
The ideal candidate will have a bachelor degree in a program related field, or 2-3 years' experience working with youth. This person must be a committed Christian who is comfortable sharing their faith with others and supports the beliefs of the Presbyterian Church (USA). As Communication Director, a proficiency in social media and related technology is required and outstanding communication skills are expected. The Youth/Communication Director maintains a flexible work schedule and must be willing to work evenings and weekends.
Salary is $35,000 with health insurance provided.
For further information contact Lisa Hart at 620-388-3486.
How to Apply:
Resume can be forwarded to prattpresby@gmail.com or mailed to Pratt Presbyterian Church, P.O. Box 872, Pratt, KS, 67124.
---
Marketing and Communications Specialist
Company Name: Chapel Hill UMC
Company Address:
1550 N Chapel HIll St.,
Wichita, KS, 67206
Job Description:
Hours: Part-Time Salaried, 20 hours per week, preferably 9:00 – 1:00 Monday through Friday. Note: This is not a remote position; candidate must be able to work from the church office during regular business hours.
Compensation: Commensurate with education and experience
Chapel Hill UMC Mission
Welcoming ALL people to experience and share the extraordinary GRACE and LOVE of Jesus Christ.
Job Purpose
The Marketing and Communications Specialist will develop a vision for communications that enhances internal and external communication for church-wide events, classes, Sunday and special services, community outreach and the like. The Marketing & Communications Specialist will serve as a key staff team member working with the Senior Pastor, staff ministry leaders, and volunteers to implement church communications and marketing internally and externally.
Additionally, this role will be part of an assistive resource for the Church Office Coordinator which is a vital link between our church ministry, church staff, the Preschool, and the congregation. This person serves as a gateway for all weekday activity and is responsible for creating a positive and inviting impression of the church and its ministry.
Duties and Responsibilities
Continually look for new and creative ways to present Chapel Hill UMC to the community

Responsible for internal and external communications including, but not limited to, weekly worship service bulletins, weekly e-newsletter, overall website enhancements and weekly website updates, special events, posters, worship slides, social media, and the marquee sign

Stay current with technological trends in communication and incorporate them in existing and new communication methods at Chapel Hill

Whenever possible, enlist volunteers to coordinate and implement specific tasks, especially those involving social media i.e. Twitter, Instagram, or Facebook

Maintain healthy lines of communication with various staff members and volunteers

Maintain consistent branding throughout the church

Serve as the first line of support to the Office Manager, particularly during the lunch hour or breaks by welcoming all guests, monitoring building access, and answering phones.

Ensure financial responsibility and manage marketing budget

Other duties, as assigned by supervisor
Qualifications/Abilities
Lead from the foundation of a Christ-centered life and committed to grow in Christian faith

Willing to support the mission of Chapel Hill

Knowledge and ability to handle all copywriting

Web Design and maintenance in WordPress

Familiar with Graphics design programs – Adobe InDesign, Photoshop

Microsoft Office Suite

Familiar with Social Media platforms – Facebook, Instagram, Twitter

Open-minded, flexible with a strong desire for excellence

Organized, responsible, and efficient in work

Servant-leadership management style

Strong interpersonal Skills
Education and Experience
Minimum of a Bachelor's Degree or possess appropriate marketing/communications experience with a proven track record.

Working knowledge of United Methodist Church and/or the willingness to learn
Working Conditions
Requires occasional evenings and weekends
Physical Requirements
Sitting at computer for periods of time
Direct Reports
Graphic Design Artist

Lay Volunteers
How to Apply: Go to https://amawichita.org/jobs/chapel-hill-umc-marketing-and-communications-specialist/
---
Various Positions
Company Name: KAKE-TV
Company Address:
1500 N. West St.,
Wichita, KS, 67203
Job Description:
Click Below to download the individual job descriptions with instructions of how to apply:
How to Apply: See individual job descriptions above for instructions.
---
Youth Pastor
Company Name: Ponca City Assembly
Company Address:
2313 E. Prospect
Ponca City
Oklahoma
74604
Job Description:
Wednesday night youth service
Sunday night youth bible study
Tuesday morning staff meeting
Sunday morning greeting/tithe prayer.
Youth group is currently 25 students. Special considerations given to those with lead worship experience but not a must.
How to Apply: Email resumes to:
kori.benton@gmail.com
rdbardwell@hotmail.com
pastor@pcachurch.com

Or mail to
2313 E Prospect
Ponca City, OK 74604
---
Want to post a job here? Submit a Job Board Posting Request.