News
September 27, 2010
Southwestern College will welcome a special guest to its weekly chapel service on Wednesday.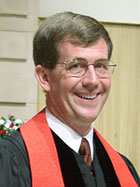 Scott Jones, resident bishop of the Kansas Area of the United Methodist Church, will preach on Isaiah 6: 1-8 with the title "Where Are You Going?"  Chapel begins at 11 a.m. in Messenger Recital Hall in the Darbeth Fine Arts Center.  
           
"We are so happy to have Bishop Jones preach in chapel this year," says Southwestern College campus minister Ashlee Alley.  "He was last here to preach before the current students were here and several requested that he come and preach while they were students.  Bishop Jones is a great encourager of young people, and especially those with a call to ministry, so it will be great to have him on campus."  
           
Jones is on the Southwestern College Board of Trustees.  He is also the chairperson of the World Wide Nature of the Church Study Committee and the Taskforce for Theological Education. He serves as a member of the South Central Jurisdiction Mission Council Executive Committee. In 1996, 2000, and 2004 he was a delegate to the General and Jurisdictional Conferences of the United Methodist Church.
           
Bishop Jones received degrees from the University of Kansas (B.A. in Philosophy), Perkins School of Theology of Southern Methodist University (master of theology) and Southern Methodist University (Ph.D. in religious studies). His dissertation research was focused on Wesley Studies and the History of Biblical Interpretation.
           
Chapel can be heard online at www.sckans.edu/chapel.   For more information about this or any of the weekly Chapel services at Southwestern, call Alley at (620) 229-6362.