Mission Trips
Over the Course of four years students of Discipleship program have an opportunity to experience a variety of Mission trips from Kansas to Urban to International.
OGDEN, KS TRIP (2014)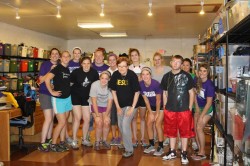 The week after graduation was an exciting week for the students of Discipleship SC. We travelled to Ogden, KS and worked with the Ogden Friendship House of Hope. This place was a refuge for the people in poverty who lived in Ogden. It was a place for them to get food, clothing, and a place for them to find hope. While we were there, we helped store both clothing and food, and we met some of the wonderful people of Ogden. This trip was an amazing week in which students grew closer to God, grew closer to each other, and learned that you don't have to travel around the world to make a difference and show others the love of Christ.
COSTA RICA (2015)
Mission field: San Jose Costa Rica
Project partner: Abraham Project
NEW MEXICO TRIP (2012)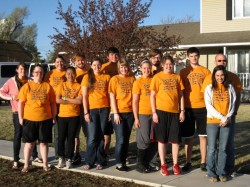 On spring break of 2012 (March 17th – 24th), twelve Southwestern College students along with three sponsors went to work in the Navajo nation in Shiprock, NM.
A note in our time capsule summarizes a trip very well:
After sixteen hour car ride across the plains of Kansas, over the mountains of Colorado, through dust storm and snow and across the New Mexico desert, we arrived in Shiprock, NM in the Navajo nation. Such an epic prelude foreshadowed the life-changing experience that manifested over the few days that we spent, worked with and fellowshipped with the Navajo people. Facing frigid winds and risky heights, the reward that each soul on this trip gathered transcended the physical accomplishments of each project.
This mingling, this unsettling from our regimented lives and comfortable culture catapulted us into new relations and spiritual gifts. Prayer and Holy Spirit have given us strength and encouragement to take this experience, this flame back with us to Southwestern. A mission experience was our goal, unsettling was our means, and we accomplished both with the courage and faith of Abram!
DOMINICAN REBUBLIC TRIP (2011)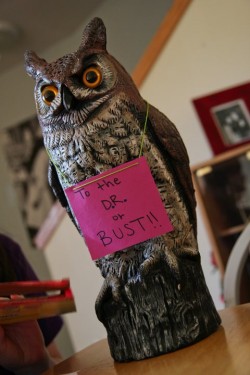 In the last several years, we have started making a "time capsule" of sorts in the "mascot" of our mission trips, Al Buho (aka our plastic owl decoy that is a coveted White Elephant gift at our Christmas parties). This year our note from our trip to the Dominican Republic sums it up well:
Mission Field: Anywhere from Kansas to the DR
Mission: To Be the Hands and Feet of God, Serving His People
Our mission trip reminded us of the power of God at work in the world around us…not that we were bringing God's power…the Holy Spirit had already done that, but we became aware of the work that is being done in a part of the world far from us, in many ways. We experienced significant ministry within our group, as one of our members was hospitalized with Dengue Fever. We witnessed God's healing in his life as he was released in time to travel home with us, and we experienced the power of prayer, as we kept vigil for him during a particularly dangerous time for him. And we came away with a reminder that God calls us to be in mission wherever we are. Thanks be to God!

We assembled at Wichita airport, packed and ready to begin our journey. Each of us had our own concerns, excitements, expectations, but only one goal—to let God's will be done. For most of the team, the language barrier was a huge challenge we've overcome. Though we were plagued with sickness and injury, we never lost sight of our mission. We taught lessons in schools, sang songs, did crafts, played with the kids, loved the kids, visited people in their homes, lead youth group, were a part of church services, and shared God's love with all whom we met. It didn't matter what happened before or after, we gave our all to put a smile on every face we came across. We had come to be a blessing, but in return, have been blessed by leaps and bounds. As individuals, we've grown in our own different ways. As a team, we have grown to become a family, striving for excellence in all that we do. Our mission in the mission field has been completed, but our mission for God never ends. Armed with our own stories, as testimonies of God's goodness, we are ready to further God's kingdom, by being His hands and feet, wherever we go from here.
---
Support future Mission Trips:
You can donate online to scholarships that help fund students on their mission trips. Help us help the world!