Mission Trips
Over the course of four years, students of the Discipleship program have an opportunity to experience a variety of mission trips from Kansas to urban to international.
OGDEN, KS TRIP (2014)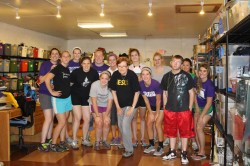 Mission field: Ogden, Kansas
Mission: We traveled to Odgen, KS and worked with the Ogden Friendship House of Hope. This place was a refuge for the people in poverty who lived in Ogden. It was a place for them to get food, clothing, and a place for them to find hope. While we were there, we helped store both clothing and food, and we met some of the wonderful people of Ogden. This trip was an amazing week in which students grew closer to God, grew closer to each other, and learned that you don't have to travel around the world to make a difference and show others the love of Christ.
COSTA RICA (2015)
Mission Field: San Jose Costa Rica
Project Partner: Abraham Project
Mission: The Discipleship team went to Costa Rica over the summer and we partnered with the Abraham Project. We enjoyed leading bible studies and doing construction work through the project site. We had the opportunity to meet some really great people with amazing stories.
DALLAS, TX (2016)
Mission Field: Dallas Texas
Project Partner: Crossroads Community Service, North Texas Food Bank, Christ's Foundry United Methodist Church
Mission: The Discipleship team went to Dallas over spring break on a service trip! We enjoyed serving with Crossroads Community Service, The North Texas Food Bank and Christ's Foundry United Methodist Mission. So grateful for relationships formed and learning about how God is on the move in Dallas.
PORTLAND, OR (2017)
Mission Field: Portland Oregon
Project Partner: Kaleo
---
Support future Mission Trips:
You can donate online to scholarships that help fund students on their mission trips. Help us help the world!