International Student Information
Overview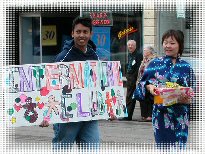 Welcome to Southwestern Collge in Winfield, Kansas! We are a comprehensive college located in the southern section of the state. Winfield is a beautiful small town that is regarded as the #56 small town in America's top 100 small towns! Southwestern College appreciates and encourages students from all over the world to consider Southwestern College as their choice for an great liberal arts education.
At Southwestern College, we challenge international students to open up their horizons. By providing intergrative activities and a well rounded academic system, we encourage our students to experience a different culture, a different world.
We have students from such countries as Mexico, Indonesia, Ireland and Kenya.
Southwestern College offers an outstanding and supportive Host Family Program, small classes, dozens of student organizations, intramurals, strong academic programs and a great environment for learning!