SGA Minutes
April 25, 2012
Claudia Geer, professor of psychology, received the Student Government Association's citation as Outstanding Faculty Member of the Year and Sarah Hallinan, director of residence life, was SGA Outstanding Staff Member of the Year during the college's faculty and staff recognition ceremony Friday, April 20, at Southwestern College.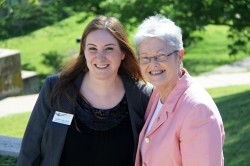 Staff and faculty members are chosen by Southwestern College's Student Government Association (SGA). Each year, members are encouraged to choose recipients who best enable students to achieve their full potential.

"We felt that Claudia has done a lot for SC students, and with her retirement, it would be best to honor her any way that we could," said Jordy Train, president of SGA. "Sarah has done a good job of getting to know the students and has helped our organization immensely this past year as an advisor."

Geer and Hallinan join the ranks of many others who have been chosen by students to receive these awards. Outstanding faculty have been honored since 1966, outstanding staff since 1986.

"We appreciate everything they do, because it's the job of all faculty and staff members to help the students, and we feel these two exemplify that notion," said Train.