News
August 06, 2013
Gaston Warner, executive director for the Zimbabwe Orphans Endeavor (ZOE), will be the featured speaker at Opening Convocation at Southwestern College on Friday, Aug. 23, at 11 a.m., in the Richardson Performing Arts Center in the Christy Administration Building. There is no admission charge and the public is invited to attend.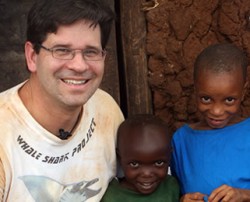 After serving on its board, Warner was appointed as executive director for ZOE in 2013, facilitating the empowerment of over 20,000 orphans and vulnerable children in multiple African countries. More and more African children are caring for other children because of the growing number of parents dying due to HIV/AIDS, disease, war, famine, and other causes. ZOE works to break the cycle of poverty and give these children hope. ZOE goes into communities where the orphans are already living, and brings them together in supportive groups. ZOE provides the resources and training they need to pull themselves out of poverty in just three years.

ZOE's social workers ensure children know about their rights, are free from abuse and exploitation, and can find a safe place to live. Children learn skills such as farming and animal husbandry at monthly meetings. Then, ZOE provides them tools, seeds, and farm animals so they can grow and raise their own food. When children need a home, ZOE provides the necessary materials and their peer working group assists in construction.

Warner is an ordained elder in the Texas Conference of the United Methodist Church. He has led congregations in inner-city, multi-ethnic, and suburban settings, from Chicago to Bristol, England. Gaston has served on numerous non-profit boards and as a staff member for Habitat for Humanity, Duke Divinity School, and Duke Chapel. Gaston received a bachelor of arts degree from Brown University, a master of divinity degree from Duke Divinity School, and a master of business administration from University of Durham in England. He lives in Durham, N.C., with his wife, the Rev. Dr. Laceye Warner who is executive vice dean for Duke University Divinity School, and their daughter Clare.