News
December 03, 2013
The Southwestern College Athletic Hall of Fame will induct six new members Saturday, Dec. 7, in the Roy L. Smith Student Center. There will be a social time at 1:30 p.m., followed by the induction at 2 p.m. The inductees will also be introduced at the conclusion of the of the Southwestern-Friends women's basketball game at 6:45 p.m., in Stewart Field House. The new members are Bill Shaw, Nicole (Ledbetter) Brannon, Janaye (White) Shaffer, Andrea (Mohr) Stafford, Niki (Nicholas) Schadegg, and Terry Barnett.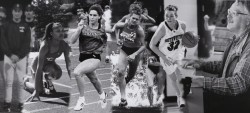 Bill Shaw is a 1976 graduate of Southwestern. He played basketball while at Southwestern but is best known for his many years as a successful high school coach. While at Wellington High School, Shaw was named class 4A baseball coach of the year in 1991, 1995, and 1996. He also coached baseball at Derby High School where he led the Panthers to the class 6A state championship in 2001 and was named National High School Baseball Coach of the Year. He also was the football defensive coordinator for Wellington when they won the state championship in 1982 and at Derby when they won a state championship in 1994.

Nicole (Ledbetter) Brannon participated in women's track and graduated in 2000 from Southwestern College. She was a two-time NAIA All-American in '97 and '98 and the Kansas Collegiate Athletic Conference Most Valuable Performer in '97, '98, and '99. Brannon currently holds the Southwestern College record in the 100- and 200-meter dash and was a member of two record-setting relay teams. She also holds the KCAC meet record in the 200-meter dash. She was a 12-time KCAC champion in only three seasons of competition.

Janaye (White) Shaffer, graduated in 1997. While at Southwestern, Shaffer participated in volleyball and track and field. She was an NAIA indoor All-American in 1995. She placed 7th in the 4 x 100 meter relay at the 1997 national outdoor meet. She was a 10-time KCAC champion in sprints and relays and is a former school record holder in the 200-meter and 400-meter dash.

Andrea (Mohr) Stafford, graduated from Southwestern in 2004. Stafford excelled at women's track and field and basketball while at SC. After finishing second in the 3,000 meter steeplechase at the 2003 NAIA national championships, she became the NAIA national champion and former record holder in the same event in 2004. She was a three-time NAIA track All-American. For the Southwestern College women's basketball team, she was a three-time All-KCAC selection and is the all-time career leader in three-point field goals made (265).

Niki (Nicholas) Schadegg, graduated from Southwestern in 2004. Schadegg is the all-time leading scorer in Southwestern College women's basketball history (1,972 points). She was a four-time All-KCAC First-Team selection, two-time KCAC Player of the Year selection (2001 and 2004), and a two-time NAIA All-American.

Terry Barnett. A long-time professor of chemistry at SC, Barnett has been the public address voice of Southwestern College football, volleyball, and basketball for 26 years.

At halftime of the Southwestern-Friends men's basketball game there will be a special introduction of the 2003-04 women's basketball team, which was the first squad to qualify for the NAIA national tournament and the only team to win its first round game and advance to the round of 16. The Lady Builder Athletic Hall of Fame inductees will also be recognized.

The public is invited to attend the ceremony and there is no admission charge. For more information about the SC Athletic Hall of Fame or the induction ceremony, call (620) 229-6218.