News
February 26, 2014
The Southwestern College education department has recognized Tyler Shirley, Mulvane, and Kaci Hutchinson, Oologah, Okla., as "Teachers of Promise."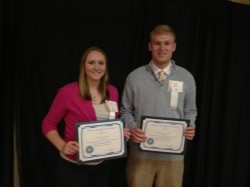 Shirley is the son of Don and Annette Shirley. He is student teaching at Arkansas City Middle School under Southwestern College graduate Caleb Hartman and will graduate this spring with a bachelor of science degree in physical education.

"I am honored to be the recipient of one of Southwestern College's prestigious education awards," Shirley says. "I was able to receive this award because I have had great professors here at SC who have helped model the proper ways to instruct and lead students. I have learned a great deal from them and without their help I would have never been able to be a 'Teacher of Promise.' I am thrilled to be the male recipient of this award and I will do my best to live up to and meet the standards that this award has set."

Hutchinson is the daughter of Sherry and Rod Hutchinson. She is currently student teaching a second grade class at Lowell Elementary in Winfield. She will graduate this spring with a bachelor's degree in elementary education.

"I am blessed and excited about being awarded the 'Teacher of Promise,'" Hutchinson says. "I have many great teachers, leaders, friends, and family who have helped me get to this amazing point in my life. I am thankful for a great cooperating teacher that is providing me this opportunity. I will only continue to grow and learn as I continue my student teaching and begin my role as an educator."

According to Jackie Glasgow, coordinator of student teaching at Southwestern, each semester Kansas colleges and universities with teacher education programs are invited to name two individuals to be recognized as "Teachers of Promise." The spring 2014 recipients were honored at a banquet in Topeka on Feb. 21.

"In this selection process, the teacher education program faculty of SC typically considers individuals who are presently in their student teaching semester through both the campus and professional studies cohorts. With the continued growth of our program, the pool of potential candidates continues to grow, making the final selection challenging," Glasgow says.

Glasgow continued that in naming "exemplary" candidates, attributes of effective professional educators are considered, similar to those utilized in identifying the Kansas State Teacher of the Year. Those attributes include demonstrating a strong commitment to the teaching profession, planning and delivering effective lessons which attempt to meet the learning styles and needs of all students, building team relationships with colleagues, supervisors, and parents, and engagement in the greater school community.