News
January 21, 2015
Southwestern College Director of Athletics Dave Denly has announced that Brad Griffin has been hired to lead the Moundbuilder football program. Griffin becomes the 28th head coach in the team's 111-year history.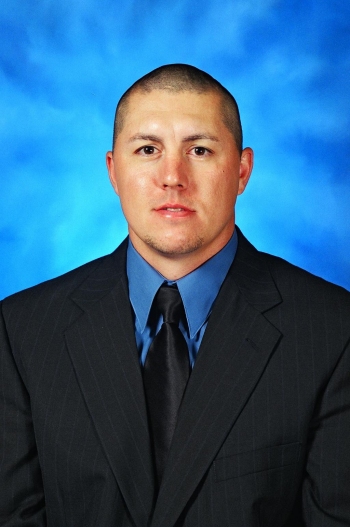 "We are excited to put our football program in Brad Griffin's hands," Denly said. "He came to us highly recommended, and his values and philosophies fit what we were looking for. I truly believe that his dedication and vision for success will breathe new life into our football program."

Griffin comes to Southwestern from William Penn University in Oskaloosa, Iowa, where he recently completed his 10th season as the defensive coordinator for the Statesmen. During his 10 years at WPU, he helped transform the program from one of the worst in college football to a contender in the Mid-States Football Association. William Penn spent 42-straight weeks as a nationally-ranked team, and finished the 2014 season ranked No. 19 in the NAIA Football Coaches' Top-25 Poll with a 7-4 record. In 2010, William Penn won its first MSFA Midwest Conference Championship since 1976. Two seasons later, the Statesmen won the 2012 MSFA Midwest Conference Championship, and advanced to the NAIA Football Championship play-off series.

Under Griffin, the William Penn defensive unit made its home in the national spotlight. His 2014 Statesmen were the 10th-best pass defense in the NAIA, allowing 160 yards per game. In 2013, Griffin's squad was ranked No. 6 nationally, and allowed 292 total offensive yards per game. Griffin was recognized as the MSFA Midwest Co-Assistant Coach of the Year in 2011.

"Southwestern College is getting a great young coach who has been through his share of battles," William Penn head football coach Todd Hafner said. "One of his biggest battles was getting the William Penn program going in the right direction, and he has played a huge role in our success over the last 11 years. He is very meticulous in his weekly preparation, and his players are very well-versed on what to expect on game day. He will hold the players to a high level of discipline and accountability. Southwestern College will have one of the best young head coaches in the country!"

A Kansas native, Griffin graduated from Nickerson High School in 1996, and started his college football career at Hutchinson Community College, where he was a two-year starter and team captain. He continued his playing career at Emporia State University, where he was a two-year starter and team captain under Southwestern alumnus and current University of Minnesota head football coach Jerry Kill. Griffin started his college coaching career as a graduate assistant at Emporia State from 2001-03. During that time, the Hornets won the 2002 Mineral Water Bowl, and claimed the 2003 Mid-America Intercollegiate Athletic Association Championship to advance to the NCAA Div. II National Championship play-offs.

"This is a very exciting time for me and my family," Griffin said. "Becoming a head coach has always been a career goal of mine, and I feel like Southwestern is a great place for me to get it started. I believe we can make great things happen as we move our program in the right direction. I'm happy to be close to my family, and I look forward to getting to know the community. I feel like this is a great fit for me, and I'm excited to get started."

Griffin earned his bachelor's degree in physical education and recreation from Emporia State in 2001. He and his wife, Katie, will come to Winfield with two daughters, Brielle (6) and Bayler (2).