News
April 17, 2017
Southwestern College junior Elizabeth Walz has been named recipient of the Kansas Society of CPAs (KSCPA) Mary Ellen Kirkpatrick Leadership Scholarship. The scholarship is for $2,500 and Walz will be recognized at an upcoming KSCPA function. She competed for the award against accounting students at public and private institutions throughout Kansas, and is the first Southwestern College student to receive this scholarship.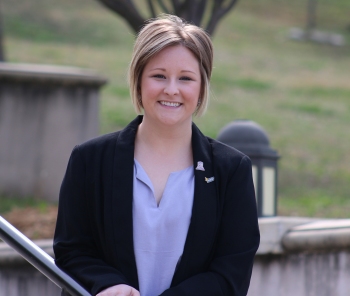 Walz is the daughter of Karin and Steve Walz, Atchison.
"Lizzie works tirelessly in her major and in her leadership roles on the Enactus Team, including helping to develop the script that made the Enactus Team a regional champion in Dallas a few weeks ago," says Patrick Lee, accounting professor and Walz's academic advisor. "Lizzie's receipt of this scholarship is a testament to our accounting program and the extra-curricular activities we provide at Southwestern College."
Walz transferred to Southwestern at the beginning of her sophomore year. In addition to her involvement on the Enactus Team she has had various internships and currently works for the firm of Lyle A. Weinert, CPA. She has been involved in Enactus since her sophomore year and has led the team to two appearances to the Enactus National Exposition. She is also the secretary of the team.
Walz credits the scholarship to her experiences at Southwestern College.
"I had confidence in my work experience and in the leadership skills I have picked up these past couple of years," Walz says. "If it weren't for the amazing business division and accounting program, I wouldn't have been offered the amazing opportunities such as internships and job positions that I have had. I was extremely excited to find the letter in my mailbox."
According to the KSCPA, qualified nominees must demonstrate academic success in the accounting, economics, and business curriculums. Additional emphasis is placed upon the nominee's overall grades. Involvement in leadership activities, willingness to comply with standards of professional responsibility, and overall moral character are important characteristics of a nominee. The Mary Ellen Kirkpatrick Leadership Scholarship Award is not based on financial need.