News
May 16, 2017
Tammy McEwen, associate professor of biology, was named recipient of the Charles H. and Verda R. Kopke Award for Distinguished Teaching during Southwestern College Commencement exercises Sunday, May 7. The Kopkes established the award in order to honor outstanding faculty members.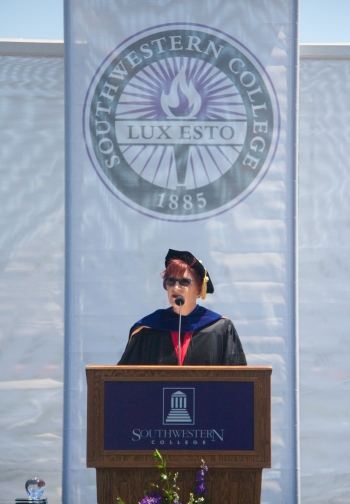 "I am very grateful to the Kopkes for providing this generous award to recognize excellence in teaching," McEwen says. "It is extremely gratifying to be recognized for doing a job about which I am passionate. I am humbled to be included in the same category with the distinguished educators who have previously received this acknowledgement, and I have the honor and privilege of collaborating with many of those previous recipients frequently."
McEwen grew up in Texas and graduated from high school in New Braunfels, Texas. She earned her bachelor of science degree and master of science degree in molecular biology from Pittsburg State University. She completed her Ph.D. at the University of Missouri. Prior to arriving at Southwestern in August 2011, she taught high school science (biology, earth science, advanced biology, anatomy and physiology) at Altoona-Midway High School in southeast Kansas. McEwen also taught adjunct courses at Neosho County Community College.
"Winning this award means a great deal to me for while I love biology, particularly developmental biology, my true passion and calling is teaching. In essence, this award is validation for many years of hard work and dedication to serving students," McEwen added.
McEwen and her husband, Jim, live in Winfield. He is the internship coordinator at Southwestern.