News
August 24, 2017
The Winfield Area Chamber of Commerce held its monthly Chamber Coffee plus a ribbon cutting Aug. 24 for Stir & Bustle Coffee, a new coffee shop located in Deets Library on the Southwestern College campus.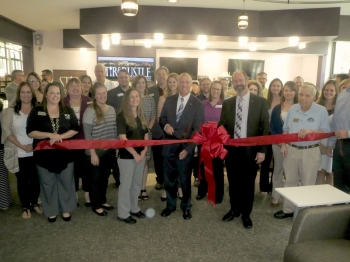 (Pictured holding the big scissors in the middle is Dr. Brad Andrews, president of Southwestern College. Surrounding him are faculty and staff, students and chamber members. Photo courtesy of Winfield Area Chamber of Commerce.)
Stir & Bustle, which takes its name from the Alma Mater, converted the open lounge inside the library's front entrance to a snack area that features open seating and contemporary décor.
Fresh Ideas, the campus food services contractor, installed the coffee shop as part of its contract with the college. Taylor Strecker, area manager for Fresh Ideas, has been instrumental in the planning of the new facility.
"It's going to grow and evolve as it takes off, but we plan for it to be a full-blown running coffee house with coffee drinks, frappucinos, smoothies, and other drinks," he says. "Ultimately we'll have sandwiches and wraps, salads, parfaits, and other food, but we have packaged food from the start."
More than snacks, though, the coffee shop provides a casual hub for students to meet, work on group projects, or relax between classes. The area is a convenient for meetings with campus visitors. The space may also be used for alumni or group gatherings, and can be closed off if coffee shop amenities are not needed.
Kristin Humphreys, associate vice president for business services, has worked with student life personnel to make sure the new space is student-friendly.
"For example, there are plenty of outlets for charging laptops, tablets, and phones," she says.
The idea of an in-library coffee shop is not new, Strecker says – he was involved in the addition of a coffee shop to the Lindenwood University.
"It's a gathering place, but we expect a lot of studying to be going on in this area," he says. "There are still plenty of quiet spaces in the building for students who prefer that study environment."
---
Stir & Bustle Photos