News
November 28, 2017
Photographs by Nathan Olivier are on display at the Winfield Public Library (WPL), 605 College Street, through the end of December. The 10 images were made during 2017 and are printed on canvas.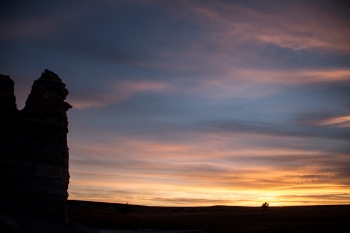 Olivier is a senior at Southwestern College. As an artist, he enjoys working in many mediums of art and tends to favor drawing, painting, sculpture and photography.
"Working on art allows me to achieve an almost meditative yet active state of mind," Olivier said. "I find myself drawn to nature, the sky, and vivid color. I like to see the world from a different or new perspective and spend a lot of my free time observing trees, clouds, and the sky, both day and night. I try to capture moments in life that are often missed or overlooked by using different perspectives to enhance the mystique and awe-inspiring nature of the sky in relation to the earth."
Jessica Falk is the public services specialist with WPL and worked with Olivier to plan the show.
"This collection of photographs will resonate with our library patrons as it captures the beauty of the sky in various Kansas locations, including Cowley County," Falk says.
The images are in the back hallway of the library and can be seen between the hours of 9 a.m. and 8 p.m. Monday through Thursday; from 9 a.m. to 6 p.m. on Friday; from 10 a.m. to 6 p.m. on Saturday and from 1 to 5 p.m. on Sunday. Please check the library website or phone (620) 221-4470 to confirm holiday hours.