News
December 08, 2017
Southwestern College junior accounting student Tabeth Manzunga has received the Kansas Society of Certified Public Accountants (KSCPA) Roger CPA Review Platinum Scholarship. The scholarship allows Manzunga to receive a fully-paid tuition toward a full-four part CPA review course, a value of $2,000.
The KSCPA announced this scholarship in September and Manzunga was notified a few weeks ago that she received the scholarship.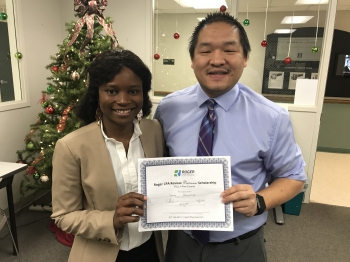 "I am personally excited about Tabeth receiving this scholarship as Roger CPA Review Course was the same course I used when I was studying for the CPA exam about eight years ago," says Patrick Lee, assistant professor of accounting at Southwestern College. "Roger Phillips provides a very interactive, but informative course that experiences a pass rate of over 80% and has been at that level for over 15 years."
According to Lee, the CPA exam is one of the toughest credentialing exams in the United States, if not in the world. Student pass rates on the CPA exam is around 50% and students need a review course to focus their knowledge on items that are tested on the CPA exam.
"Although students receive a lot of great knowledge at the collegiate level, the depth of the CPA exam is so much greater than an undergraduate education can provide, thereby the need for a CPA exam course," Lee says. "This course will allow Tabeth to pass the CPA exam once she graduates from college."
This is the second scholarship awarded to a Southwestern College student in the past year. Elizabeth Walz was awarded a $2,500 scholarship last spring from the KSCPA.
"This scholarship award continues the Southwestern College accounting program's commitment to engaging our students in the profession throughout the state of Kansas," Lee says. "Opportunities like this scholarship open up our students to the best the profession has to offer. The continued awarding of scholarships to our accounting students shows the quality of accounting professionals we develop on our campus and I am excited about how the profession has taken such an invested approach to the students that graduate from our college. It great to see our students recognized at the state and national level for their engagement in the accounting program at Southwestern College.
Manzunga plans to use the course after she graduates in the fall of 2018 and continues to work toward obtaining her CPA license.