News
February 05, 2018
Southwestern College senior Rita Stockton, Winfield, has begun an internship at television station KAKE in Wichita. She assists KAKE meteorologists as they prepare weather forecasts to present on air and online.
Stockton says that the daily challenge of predicting the weather interested her.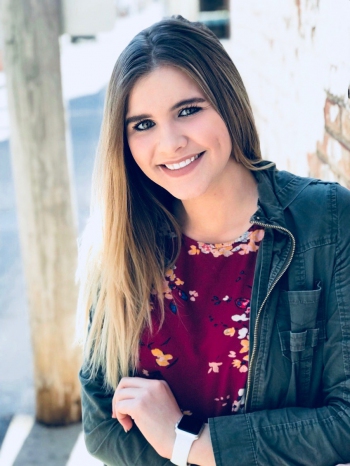 "The weather changes every day, that entices me," Stockton says. "I know one day when I get a job that I will go to work every day; for meteorologists, every day is different and I like that."
Stockton is a 2015 graduate of Winfield High School. She is the daughter of Lori and Jason Stockton. In May, she will earn her bachelors degree in mathematics in just three years. She plans on earning a masters degree in meteorology beginning in the fall.
Stockton says getting the internship wasn't too difficult.
"My advisor (Ed Loeb, associate professor and Phillips Chair of mathematics) helped begin the process and guided me. Eventually I went online to see which news stations offered internships. I contacted Dave Grant at KAKE and I was on my way."
Stockton says she works alongside KAKE meteorologists Cat Taylor and Jay Prater. She has watched and helped as they have interpreted data from the Nation Weather Service and create forecasts for the viewing area.