News
March 22, 2018
Southwestern College junior Christian Gordon has received the Kansas Society of Certified Public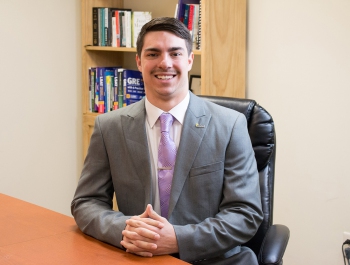 Accountants (KSCPA) John J. Killian Scholarship. The scholarship is worth $2,500.
Gordon is an accounting/business double major from Yukon, Okla., and is on the Southwestern College football team. He has been a member of the team since he was a freshman.
Funded by Kansas CPAs in honor of the KSCPA's first full-time executive director, this scholarship is given to one full-time student enrolled as an accounting major in their junior year at an independent Kansas college or university. Qualified scholarship nominees must demonstrate academic success in their accounting curriculum.
Additional emphasis is placed on the nominee's grades in English and rhetoric subjects, as well as courses in business and economics. Important qualifications also include the nominee's involvement in extracurricular activities, willingness to comply with standards of professional responsibility, and overall moral character.
According to Patrick Lee, assistant professor of accounting at Southwestern College, Gordon is a tutor for accounting students in the tutoring center and is a project leader of the hydroponic project that the Enactus students are working on now. Gordon was part of the Enactus management team that won the $10,000 R.W. Plaster Free Enterprise Challenge award last spring.
"Christian is a true leader on our campus in all the roles he serves, including football, Enactus, and the accounting program," Lee says. "Ever since he walked on campus in the spring of 2015, he has taken every leadership opportunity that has come to him and has succeeded in all of the roles he takes on. We see Christian being a successful accountant and CPA working in public accounting starting in summer 2019 and can't wait to see the positive changes he'll make in the accounting profession."
Gordon is the third recipient of a scholarship award from the KSCPA in a little over a year. Last year, Elizabeth Walz received the Mary Ellen Kirkpatrick Leadership Scholarship and in September, Tabeth Manzunga received the Roger Phillip CPA Review Scholarship.