News
August 25, 2020
Jacob Goodson, associate professor of philosophy at Southwestern College, has released his latest book, "The Dark Years? Philosophy, Politics, and the Problem with Predictions."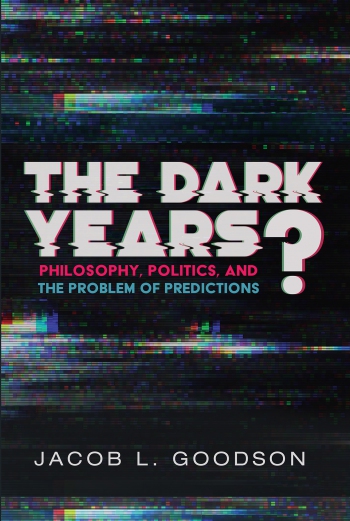 The book was inspired by the 1997 book, "Achieving Our Country: Leftist Thought in Twentieth-Century America" by philosopher Richard Rorty.
"Readers might be shocked to learn that in 1997 and 1998, a philosopher named Richard Rorty accurately predicted the 2016 election, the proliferation of gun violence from 2014-2020, and other details about our current time period," Goodson says. "His predictions span from 2014 to 2095, and he claims that 2015 to 2045 will be the darkest 30 years of American history. In my book, however, I argue that Rorty's predictions are problematic because they leave us hopeless in regards to the next 25 years of American political and social life."
Goodson says that he has been pondering this book since 2016 and decided to write it in 2017.
"The day after the presidential election in November 2016, a paragraph from Rorty's 'Achieving Our Country' (1997) went viral," Goodson says. "This was the paragraph where he predicted the 2016 election. At that point, I started to think about what it might mean to take all of my knowledge about Rorty's philosophy and explain why he was able to make this prediction. Exactly one year later, in November 2017, I had a breakfast meeting with an editor from Cascade Press who asked me if I thought Rorty's predictions were worthy of a book project and, if so, would I be willing to be the one to write it? By December 2017, I had committed to the project. At that point, the editor said his only goal was to have the book come out before the 2020 presidential election so I wrote it as quickly as I could. The book came out August 2020, three months prior to the election."
John Shook, instructor of research ethics and science education at the University of Buffalo, the State University of New York, says that Goodson's book is a must-read.
"As a prophetic voice among leftists, Richard Rorty foresaw how the 'culture wars' polarized and paralyzed democratic politics," Shook says. "Jacob Goodson offers a sympathetic account of Rorty's sincere regrets over the 'academic Left' and its focus on identity politics rather than capitalism's victims. During the 1990s Rorty predicted America's descent into tribalism, a 'strongman' president, mass violence, a second Great Depression, and capitalism's disbanding of democracy. This book is a must-read by anyone hoping that philosophy can re-awaken to its responsibility for our collective welfare."
"The Dark Years? Philosophy, Politics, and the Problem with Predictions" serves as a sequel to "Strength of Mind: Courage, Hope, Freedom, Knowledge" (Cascade, 2018) and may be purchased online at www.wipfandstock.com/the-dark-years.html. Amazon and Barnes & Noble have it available on their websites as well. Goodson says that it is also available at Eighth Day Books in Wichita.