News
November 04, 2020
Kanami Ellis, Round Rock, Texas, and Marcus Richard, Houston, Texas, were named Southwestern College Homecoming king and queen on Saturday, Oct. 31.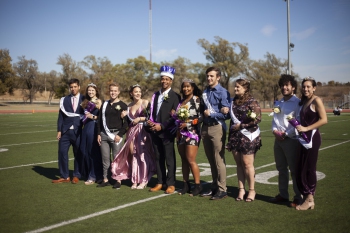 Ellis is the daughter of Kayoko Ellis. She is majoring in biology, is a member of the SC volleyball team, and senator of natural sciences and mathematics in the Student Government Association (SGA). After graduation, Ellis plans to further her education in medical school.
Richard is the son of Earl and Inger Richard and is a senior studying psychology. Richard is president of SGA and a captain on the Moundbuilder football team. After graduation, he plans on attending law school.
Other king and queen candidates included:
Brynn Hampton, Pratt. She is the daughter of Von and Della Hampton. Hampton is pursuing her BFA in musical theatre, and is the SGA vice president of activities. Hampton has been involved in many musicals on and off Southwestern's campus throughout her years at SC as well as Tonebuilders, Campus Players, Sweet Jinx's, and was a STUFU executive last year.
Jonah Robson, Rose Hill. He is the son of Scott and Ginger Robson. Robson is involved in Worship Outreach, Campus Ministry, Impact, and is studying biochemistry.
Jacob Montgomery, Arkansas City. He is the son of Justin and Keeli Montgomery, and is currently a junior studying health science. Montgomery is a member of Pre-Health Professionals, Tonebuilders, jazz band, and choir.
Erin Hall, Norwich, is the daughter of Don Hall and Laurie Hageman. She is a senior studying religion and philosophy. Hall is currently a member of the Discipleship team and is the student administrator for Chapel at Southwestern. She enjoys her work outside of SC as a worship leader and youth leader at Winfield First United Methodist Church.
Javier Contreras, Machali, Chile, is the son of Italo Contreras and Susana Cabezas. He is pursuing a degree in business administration with an emphasis in finance, marketing, and management in addition to a minor in accounting. Contreras is also a member of the tennis team.
Alexa Powers, Tulsa, Okla., is the daughter of Thomas and Carrie Powers. She pursuing a bachelor's degree in biology with a minor in Leadership. Alexa is involved in tennis, Leadership, Pre-Health Professionals, and Residence Life.
Braden Calvin, Lakin, is the son of Katrina Calvin. Calvin is a senior studying psychology. He is involved in Pi Gamma Mu, Psi Chi, Psychology Club, Discipleship, SGA, and a student ambassador Braden plans to go on to graduate school to further his education.
Emily Robinson, Andover, is the daughter of Paul and Jana Robinson. She is double majoring in religion and philosophy and musical theatre performance. Robinson is vice president of Tonebuilders, Members Master of Campus Players, and involved in Discipleship, Worship Outreach, choir, theatre, SGA, the Sweet Jinx's female barbershop ensemble, and the Nine Lives Improv troupe.