News
May 04, 2021
The Southwestern College board of trustees voted unanimously to move forward with the construction of a new residence hall. Following action by the 27-member board, design development work began immediately and the facility will open as early as the summer of 2023.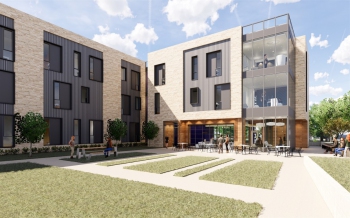 The board decision comes on the heels of Southwestern's recent selection by the United States Department of Agriculture (USDA) for an $11.66 million financing package through the Rural Development Community Facilities direct loan program to build a new residence hall.
"This is an excellent and exciting opportunity to invest in the student experience and in the future of our college," said President Brad Andrews.
As enrollment at the college has continued to climb in recent years additional housing capacity has become necessary. Southwestern's full-time enrollment has grown by 35% over the past five years, outperforming the market. State public higher education enrollment has fallen by 5% over the same period.
"Tremendous enrollment growth in the past five years has meant carefully managing occupancy strains on our housing system," explained Andrews. "As we prepare for another historically large incoming class of first-year students who will make Winfield their home in the fall; we simply need more space to house our students."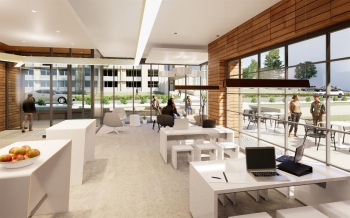 Southwestern was selected by the USDA for the highly sought funding vehicle after a comprehensive process, including an independent external audit examining the college's financial position and vetting the sustainability of recent enrollment growth.
"The terms available through the rural development direct loan program are very favorable to the college and impossible to beat in the private market," said Southwestern's Chief Financial Officer, Tony Crouch. "Given our continued enrollment growth and the need for added housing capacity, this investment in the college is necessary and the most practical way for us to move forward with this exciting project."
Preliminary drawings of the new residence hall, which were prepared for the USDA application, show a thoughtfully designed 94-bed three-story facility, built on the open lot on the south side of Warren Avenue, diagonally across from Stewart Field House. The conceptual designs include suite-style living targeted to sophomores and juniors; the facility also includes common gathering areas and fitness space for students.
While the residence hall was the capital project the USDA selected for this financing opportunity, Southwestern is also aggressively moving forward to address other facility needs on campus as the student body continues to grow.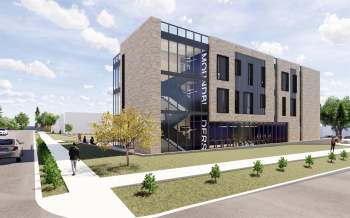 The college continues its commitment to secure funds for the improvement of current facilities across campus, including the creation of premier learning spaces in academic buildings and significant renewal work being completed this summer in the residence halls and performing arts buildings. Southwestern is also committed to building a new, additional athletic facility, the DeHaven Center, on the north side of Richard L. Jantz Stadium to accommodate growth in athletics. In support of these campus improvement efforts, Southwestern recently launched its Forward / Now Campaign.
"Southwestern College has truly made remarkable progress over these past several years and has sustained that performance through challenging times in our world. Our college is well-positioned to seize opportunities for growth and investment in the coming years," said Kim Moore, chairperson of the board of trustees. "As a board, collectively, and individually, as alumni and friends of the college, we are immensely proud and grateful for the incredible work of everyone at Southwestern."