News
May 18, 2021
Stacy Sparks, associate professor of journalism and program coordinator for convergent journalism, was named the recipient of the Charles H. and Verda R. Kopke Award for Distinguished Teaching during Southwestern College Commencement exercises Sunday, May 9. The Kopkes established the award in order to honor outstanding faculty members.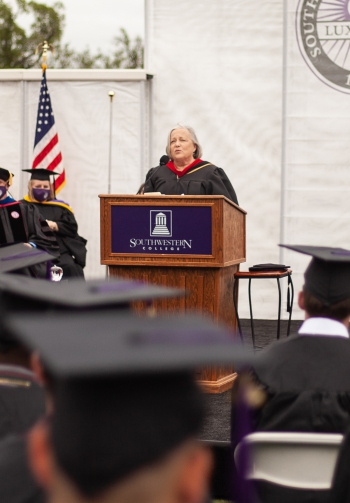 Sparks holds a bachelor of arts degree in communications and a master of science degree in communications from Fort Hays St. University.
"Stacy is much beloved by her students – she challenges them and cares deeply for them – she guides them, and she encourages them to discover," says Southwestern College President Brad Andrews. "She is an excellent teacher who has influenced the lives of many Builders."
Sparks has been an advisor for the Collegian student newspaper, convergent news website, and the Moundbuilder yearbook while at Southwestern along with being an academic advisor to communication majors.
"I want to express my gratitude to the Kopkes for establishing this award," Sparks says. "I am humbled to receive this recognition, following my colleagues who have previously been honored."
Sparks is retiring from teaching to spend more time with family. She has earned numerous honors during her career including being inducted into the College Media Association Hall of Fame in 2015, recipient of the Southwestern College Student Government Association Faculty Member of the year in 2018, inducted into the Dodge City Community College Hall of Fame in 2019, and the recipient of the Fassnacht Outstanding Faculty award in 2020.
"It has been a joy to combine my love of journalism and photography with my love of teaching," Sparks says. "I had no idea when I started down this path 33 years ago how much I would cherish this challenging and fulfilling work. It has been a privilege to spend my career with students who care about words and images and with faculty who are passionate about their disciplines."