News
September 02, 2021
Southwestern College President Brad Andrews announced today that Jamie Adams has been named as Director of Athletics for the college. Adams was selected following a competitive national search led by Southwestern's executive vice president, Dean Clark, and assisted by Dr. Kurt Patburg of Athletics Staffing and Consultants.
"This is a great day for our Builder family as we celebrate all that Jamie Adams will bring to our college," Andrews said. "Jamie's career experiences illustrate not only her talent and abilities but her investment in student-athletes and in athletic programming. She is singularly focused on helping student-athletes achieve more than they thought possible. We are excited to move into the next era of Builder athletics under Jamie's leadership."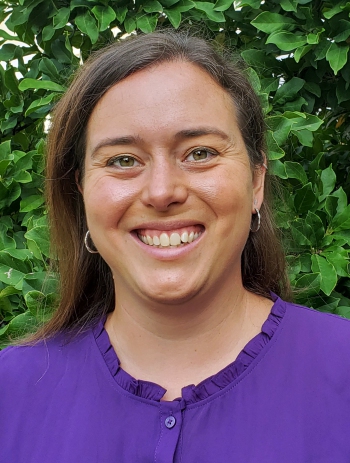 Adams has more than 12 years of experience in intercollegiate athletics. She currently serves as assistant athletic director at College of Saint Mary in Omaha, Neb. Before her time at Saint Mary, she worked at the NAIA National Office for eight years, first as Manager of Championship Sports before being promoted to Associate Director of Championship Events. Additionally, Adams was a collegiate athlete at Missouri State, where she received both her undergraduate and master's degrees.
"Southwestern College has a strong history and tradition of excellence in academics with a robust commitment to athletics," said Adams. "I am grateful for the opportunity to play a part in building on that strong foundation. It is truly an honor to join Southwestern College; this is an incredible opportunity and I am looking forward to what lies ahead. I cannot wait to get started."
Beyond her experience with NAIA, Adams has been tapped to coordinate logistics for national athletic events including this past June, when she served as the COVID officer for USA Swimming during the U.S. Olympic Trials. She also actively serves on several community boards which mostly center around regional recreation and youth athletics programs.
"I have known Jaime for nearly a decade starting with her time in the NAIA National Office and her involvement with the championships department," said Scott Crawford, commissioner of the Kansas Collegiate Athletic Conference. "Having stayed in touch with her during her time at College of Saint Mary, I see her bringing renewed focus to student-athlete care and wellness, working to develop coaches and staff, and being committed to quality programming overall with the institution as some of ­­the key ways she will impact campus I know she will be a wonderful servant leader at Southwestern."
Professor Ed Loeb, who has served as the faculty athletic representative has been the interim athletic director since Mike McCoy's retirement earlier this summer.

"I also want to extend my deep appreciation to acting athletic director Dr. Ed Loeb, associate athletic director Kyle Pond, and all of our coaches for their work during this transition period," said Andrews. "It is no small task; getting ready for and beginning a new academic year with all of the fall sports seasons and the attention to detail they require. Ed has been outstanding in his service in this role; Kyle and the coaches have stepped up and done great work; our student-athletes and our college are the beneficiary of their leadership. I am extraordinarily grateful."
Adams is set to begin her work at Southwestern on September 20.
"My philosophy is that student-athletes are people first, students second, and athletes third, who earn the privilege to compete. Sport can and should be used to nurture respect, responsibility, and an understanding that the good of the team is greater than any one person," said Adams. "This belief is consistent with the culture I've found at Southwestern and I look forward to supporting and strengthening these values in all the ways I'm able. I'm looking forward to all of the growth and accomplishment that lays ahead for our Builders."
Fall sports at Southwestern are in full swing; the full athletics calendar may be found at www.BuilderSports.com.